First Saturday Ormond Art Walk
3:00 - 7:00 pm Every First Saturday of the Month
---
Boutiques & Galleries Along Granada Boulevard
Celebrate art and culture with us from 3 to 7pm EVERY first Saturday of the month, rain or shine! Many businesses along Granada Boulevard, including the Ormond Memorial Art Museum, have their doors open to showcase local and international artists.
Kenzie Douphin Pop-Up
Art Walk: 3-7pm Saturday, July 1st
Eight pieces by Kenzie Douphin will be on display inside our reception gallery June 30 through July 2. The artist will also be at OMAM during the Ormond Art Walk, 3-7pm Saturday, July 1st. Admission to the Art Walk is always FREE! We'll have a cash bar for beer and wine, plus a special signature cocktail/mocktail!
ABOUT THE ARTIST
Kenzie Douphin is currently an art student at Brigham Young University. She has experience in a variety of art practices but considers painting, sculpting, and printmaking to be her strengths. Kenzie enjoys nothing more than making art, and is particularly interested in creating abstract work. She views her art as a record of time and effort she has spent exploring what is possible.
ARTIST STATEMENT: Chopped Tangles (No. 1-5)
"My tangles are a reflection of thought, feeling, and various stages of my mental wellness; construction and deconstruction, tying and untying, tangles and knots, clouds and storms. For a long time I've been caught in a storm that's been tearing me apart. I'm exploring what has happened and what is happening in a tangible, visible way. It is hard to face; to dig out the infestation of mold in my brain. But as I've been clearing it out I've been discovering a deeper life. I'm mainly interested in art's formal qualities, and have been able to use formal and abstract explorations as a way to deal with trauma and healing.
Instagram: @kenziedouphinart | Website: @alexvontevenar
---
Free Event & Shuttle!
Visit all of the Art Walk stops by using the FREE art walk shuttle courtesy of AdventHealth, which picks up and drops off right in front of our Peacock Pond.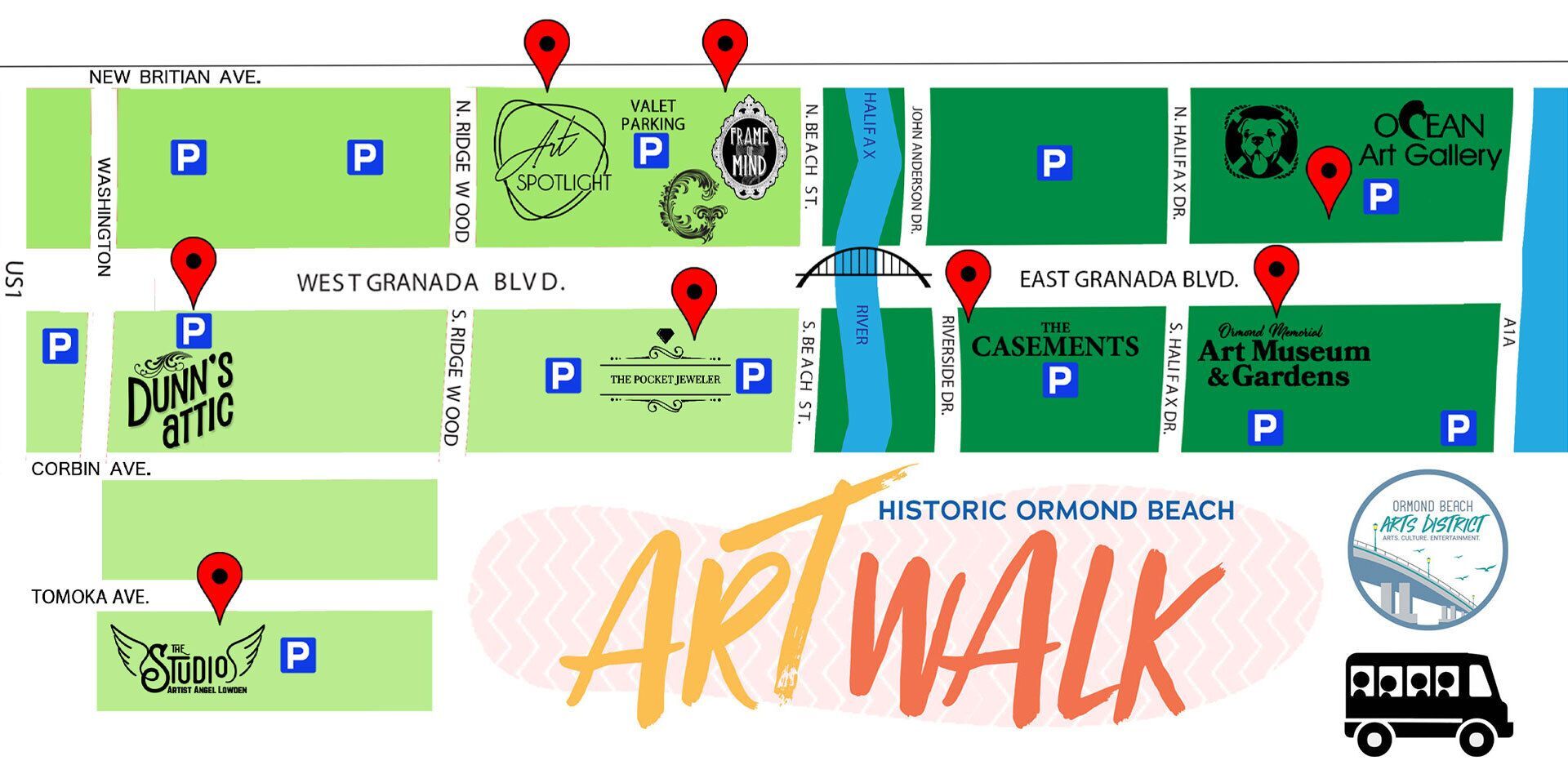 Art Walk Stops
The complimentary shuttle (white AdventHealth van) drives a continuous loop making a stop at most locations below (approximately every 20 to 25 minutes) between 3 and 7pm!
★ Ormond Memorial Art Museum: 78 E. Granada Blvd.
★ Ocean Art Gallery: 197 E. Granada Blvd. |  NautiPets: 159 E. Granada Blvd.
★ Frame of Mind: 23 W. Granada Blvd. | Gold Leaf Coffee Co: 17 W. Granada Blvd.
★ Art Spotlight: 67 W. Granada Blvd.
★ Dunn's Attic: 136 W. Granada Blvd.
★ The Studio by Artist Angel Lowden: 150 Tomoka Avenue
★ The Pocket Jeweler: 30 W. Granada Blvd.
★ The Casements: 25 Riverside Drive
---
Past Art Walk Pop-Ups
Alex Vontevenar

Alex Vontevenar

Show & Sale: June 2-4

Ten oil paintings by Alex Vontevenar will be on display inside our reception gallery June 2-4. The Port Orange artist will also paint live at OMAM during the Ormond Art Walk, 3-7pm Saturday, June 3rd. Admission to the Art Walk is always FREE! We'll have a cash bar for beer and wine, plus a special signature cocktail/mocktail!

Instagram: @vontevenar_art | Facebook@alexvontevenar

---

ABOUT the ARTIST

Alex Vontevenar is an up-and-coming local artist. He is an ambitious and inspirational young man who, while battling epilepsy and related seizures, taught himself to paint. His inspiration comes from his love of the ocean, surfing, boats, and the landscape that surrounds him. After only three years of oil painting, his works are now on display in two local galleries, Art Spotlight in Ormond Beach and VJL gallery in Daytona Beach. Alex's work has also been highlighted in local restaurants.

ARTIST STATEMENT

"Alex Vontevenar's collection is inspired by the life around him! Motivated to capture more of a feeling, rather than photo representation of the scene, his style is impressionistic, bold with expressive brush strokes and lots of texture. His art is recognized for the thickly applied paint, vivid colors, and his direct painting approach. He can usually be found out on the beach setting up his French easel, painting from life, and sometimes in the studio, both with the same goal of capturing the feeling of being there and the light of the scene."

Caroline Herbster

Caroline Herbster

Saturday, May 6, 2023

A pop-up exhibit of artwork by Caroline Herbster will be on display at OMAM during the Ormond Art Walk, 3-7pm Saturday, May 6. Meet the Atlanta-based artist between 5 and 8pm on the OMAM Rooftop where she'll be creating art live! Caroline's live art practice allows her to find a new level of mindfulness and creativity in the music she loves, creating a safe space to shed fears and discover her true artist identity.

Admission to the Art Walk is always FREE, and we'll have a cash bar for beer, wine and cocktails! Plus, be sure to stick around for "Art After Dark," the unofficial Art Walk after party (7-9pm). 

ABOUT THE COLLECTION

"Almost Always There" features about a dozen pieces of artwork created during concerts of the American indie-groove band Goose, and other live music events.

ABOUT THE ARTIST

Caroline Herbster is a multi-passionate artist and entrepreneur specializing in storytelling and memory keeping through art. Caroline most enjoys illustration, watercolor, and graphic design, and inspiration moves her brightly. From live concert art, to wedding invitations, to custom commemorative maps and commissions, her unique style is marked by the love and intimate attention to detail she gives to every project. Caroline's creative soul, spiritual experiences, deep love of music and nature, and background in mathematics and education provide unique lenses through which she views life. Caroline grew up an active member of the Ormond Beach community and is now based in Atlanta, where she owns and operates Rising Tide Art Studio as a vessel to channel the energy of her experiences and share her passions with the world. If you can't find her on the beaches of Ormond or in the trees of Atlanta, she suggests checking the banks of the Spirit of the Suwannee, the next Goose concert, or somewhere in the clouds. In addition to her artwork at the museum, she has more than 50 pieces on display in her booth at the "Art in the Park" festival in Rockefeller Gardens (May 6 & 7).

Instagram: @risingtideartstudio | Website: risingtideartstudio.com

Andrew Balint

Andrew Balint

Show & Sale: April 1-7

Six large pieces by Andrew Balint will be on display in our Reception Gallery. The abstract artist was born and raised in San Francisco, but now calls Daytona Beach home. To kick-off his week long pop-up exhibit, OMAM visitors will be able to meet and talk with Andrew during the Ormond Art Walk (3-7pm Saturday, April 1). Admission to the Art Walk is always FREE, and we'll have a cash bar for beer/wine and fun signature drinks!

Instagram: @artbybalint | Website: artbybalint.com

---

ABOUT the ARTIST

"I am a modern artist who specializes in creating abstract paintings. I was born and raised in the beautiful city of San Francisco, and I now call Daytona Beach my home. Art has always been an essential part of my life, but it wasn't until I recovered from addiction that I truly found my passion for it. During my darkest times, art was the only thing that gave me solace and a sense of purpose. It allowed me to express my feelings and emotions in ways that words couldn't. My addiction was a battle that took me to the edge, but through it, I discovered the transformative power of art. It became my therapy, my sanctuary, and my lifeline. I found that creating abstract paintings was particularly cathartic because it allowed me to be free and uninhibited. I could let go of any expectations or preconceived notions and simply let the colors and shapes guide me. Art has brought so much to my life. It has helped me heal and find meaning in the chaos. It has also given me a voice and a platform to share my story with others who may be going through similar struggles. My art is a reflection of my journey and a testament to the resilience of the human spirit. Now, as an established artist, I want to inspire others to use art as a means of self-expression and healing. I want my art to evoke emotions, spark conversations, and challenge perceptions. Through my work, I hope to make a positive impact in the world and inspire others to find their own creative outlet."

Beth O'Connor

Beth O'Connor Pop-Up

Show & Sale: March 3-5, 2023

Join us on the beautiful Rooftop Terrace during the Ormond Art Walk (3-7pm Saturday, March 4) to meet Beth O'Connor and learn about "The Seeking Women of Interest Project," which is her new collaboration with writer Ashley Davis. Beth will have her original artwork and prints for sale in addition to special merch made with Lanipots! While you're checking out the art, be sure to take a pic with Ethel in the photo booth, and enjoy pop music covers performed live by Jonny & Aaron on the violin and keyboards (5-7pm)! Admission is FREE, and we'll have a cash bar for beer/wine and fun signature drinks! Visit all of the Art Walk stops by using the FREE art walk shuttle courtesy of AdventHealth, which picks up and drops off right in front of our Peacock Pond!

---

ABOUT the ARTIST

BethOConnorArt.com ‖ YouTube ‖ Instagram ‖ Facebook

Beth O'Connor is a full-time mural artist living in Ormond Beach, Fl. Her large-scale mural work can be seen throughout Volusia County on various commercial building exteriors as well as in residential homes. She also maintains a personal art practice in her home studio. Her personal style hovers around magical realism with elements of abstraction and a dash of unexpected quirk. She is influenced by the energy of certain places, the transcendent beauty in small moments, the magic in the mundane. She often paints native Florida flora and fauna and hopes to bring attention to the fragility of our native ecosystems.

Jrob Vangogh

Jrob Vangogh Pop-Up

Show & Sale: February 3-5, 2023

Visit OMAM during February's First Saturday Ormond Art Walk (3-7pm Saturday, Feb. 4th) to see work by Jrob Vangogh in our beautiful reception gallery. The talented digital/mixed-media artist (aka Joshua Roberts) will have six large pieces from his Abstract series on display. At 4pm, Jrob will be at the museum to give visitors a sneak peek of his new piece, "Sunny Day," which is his modern rendition of The Starry Night painting by Vincent van Gogh. Admission is FREE, and we'll have a cash bar open! Catch the FREE art walk shuttle courtesy of AdventHealth!

---

ABOUT the ARTIST

follow on instagram @jrob_vangogh

Described as a renaissance man, Joshua Roberts is a multifaceted individual with many talents. He studied industrial design at the Art Institute of Fort Lauderdale before earning his bachelor's degree at Bethune Cookman University. His love for sports and science lead him back into collegiate athletics and eventually to the creation of Solar-flex, a sports performance training company in Daytona Beach. Joshua exercises his creative passions – music, writing, film, visual arts – alongside of his career. In 2022, he made his introduction to the art world as Jrob Vangogh.

Frank Ferrante

Frank Ferrante Pop-Up

Show & Sale: January 6-8, 2023

Six oil paintings by Frank Ferrante will be on display inside our reception gallery from January 6th to 8th. The artist will give talk at 5pm Saturday, January 7th. A book signing will take place immediately after the talk.

---

ABOUT the ARTIST

frankpaintings@aol.com / frankferrante.com

Frank Ferrante graduated Rutgers University and Newark School of Fine & Industrial Arts in New Jersey. It was not until later in his career, in the 1980s, that he painted with John Phillip Osborne at the Ridgewood Art Institute in New Jersey. Osborne was influenced by the American Impressionist painter, Frank Vincent DuMond and his "prismatic" palette (originated in Paris, France 1880s). It is this method and palette that Ferrante uses with all of his paintings. Ferrante devoted all his efforts learning to capture the flow from light to shadow, atmosphere, weather and time of day in his year-round Plein Air (painting outdoors) painting sketches. He has been a studio artist at The HUB on Canal, New Smyrna Beach for more ten years. Ferrante regularly participates in many shows and has won many top awards. His paintings hang in many galleries throughout the United States, including The Daytona International Airport and New Smyrna Beach City Hall. He has been painting for over 50 years and has taught Plein Air and studio painting for over 25 years in and around New Smyrna Beach. He frequently gives oil painting demonstrations and workshops throughout the United States.

Robin Sathoff

Robin Sathoff Pop-Up

Show & Sale: November 4-6, 2022

A special collection of work by Robin Sathoff will be on display (and for sale) inside our reception gallery. Please be sure to stop by and visit Robin during the Ormond Art Walk (3-7pm Saturday, Nov. 5th). Admission is free, and we'll have a cash bar to purchase beer and wine!

ABOUT the ARTIST

follow on instagram @robinsathoff

"Since childhood, I have always enjoyed drawing and would spend hours off on my own creating. I had several years in school, studying other things, which afforded me the time to hone my skills with a ballpoint pen while taking notes. Later on, I discovered the joy of painting and my work exploded into color. I paint with acrylic on canvas and tend to use very vibrant colors, flowing lines, dots, and shapes. My intent is to produce high energy works that play with the eye and bring life to the wall. I am self-taught and draw heavily from nature and creation. When starting a piece, I often don't have a concrete end in mind. This allows the work to evolve organically, building on itself. When a piece is really working for me, it feels like I'm just flowing along with the pen or brush to see what emerges. This process can make me feel more like a middleman than an artist. Either way I just want to make something beautiful." — Robin Sathoff