Interested in having your wedding or party at OMAM? Click here to view our indoor and outdoor rental spaces.
Group Visits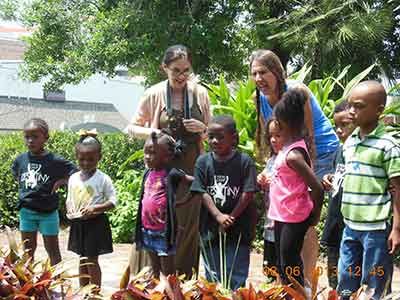 With advance notice and a nominal fee, group visits can be arranged for public/private schools, homeschool groups, garden clubs, congregate living centers, and more. We require at least one adult chaperone per 10 children, with a maximum number of 50 children per tour. Minimum group tour size is 10 participants.
Please complete the form below to request a group tour at least FOUR WEEKS before your visit.
Requests are processed on a first come, first served basis.
Garden tours are led by OMAM Garden Artisan Janett Taylor, and are only available between 10:30am and 3:00pm on Mondays, Wednesdays, Thursdays and Fridays.
Self-guided museum tours are available from 10:30am until 3:00pm weekdays, and from 12:30pm to 3:00pm on weekends. Docent led tours are not available at this time.
A turtle art project project can be arranged as part of your group tour (limited availability).
Group Tour Request Form