Art in the Garden
Each year, Ormond Memorial Art Museum hosts a fun and fabulous evening to raise funds in support of the museum's exhibitions, outreach programs and educational classes.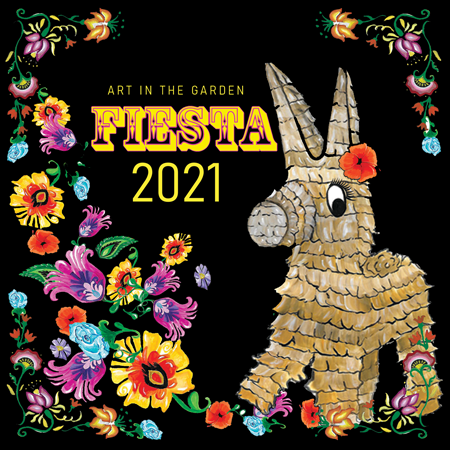 Normally held in spring, this gala will have a new date and a new location for 2021!
For details on event sponsorship or our silent auction, please call us at 386-676-3347 or email srichmond@ormondartmuseum.org.
Fiesta 2021
Sunday, November 7, 2021 @ 5-9 p.m.

Under the Pavilion at Destination Daytona: 1637 North US Highway 1, Ormond Beach, FL 32174
---
Art in the Garden 2020
~ Premier Sponsors ~
AdventHealth
Brown & Brown Insurance
Nancy & Lowell Lohman
Myrna Fux Charitable Trust
Toni & David Slick

~ Waterfall Lounge Sponsor ~
Sherry & Roy Gailey

~ Entertainment Sponsor ~
Raymond James, Brian Layman

~ BENEFACTORS ~
Lloyd Bowers & Chris Wickersham

Cici & Hyatt Brown

Ann & Locke Burt

Carol & Oscar Carbonell

Chanfrau & Chanfrau Law Firm

Coastal Ear, Nose & Throat

Cobb Cole

Melissa & Eric Devriese

Flagler Dental Associates

Frame of Mind Custom Framing

Halifax Health

Lisa & Ron Hayes

Diana Simmons

SR Perrott

Synergy Billing
~ PATRONS ~
Susan & Pete Anderson

Bridget & Bryan Bergens

B. Thomas Brown, M.D.

Center State Bank

Mary Greenlees, Olivari & Associates

Anne & Charles Lichtigman

Lisa & Brandon Perry

DBL Surety

Fairwinds Credit Union

Laura Ortiz & Ben Hedrick

Simpkins Family

SVN Alliance

Shellie & Jeffrey Sweet

Susan & Bill Voges

Whim Wham Art Studio
~ FRIENDS ~
Barbara Belletini Fields & Hank Dezutter

Beau Wild Bell & George Bell

Brentwood Bookkeeping

Pat & David Burt

Denise & Jim Carley

Carol & Bill Chapin

Sherry & Tom Dargan

Lea Anne & John Gagne

Mary Lou & Dr. Ray Kenzik

Marsha & Dr. Kim Klancke

Pat LaMee

Phyllis & Marvin Miller

Ormond Beach Dermatology & Aesthetic Center

Beth & Greig Rabitaille

Rand Consulting

The Remey Wealth Advisory Group of Stifel

Susan & Steve Richmond

Root Company

Sandy Rossmeyer

Salzburg Animal Hospital

Hilde Sanderson

Robert E. Schroeder

Marsha & Dr. Philip Shapiro

LC & Tommy Tobey

Barbara & Robert Young
Click here for images from the 2019's "Perfectly Paris" party.