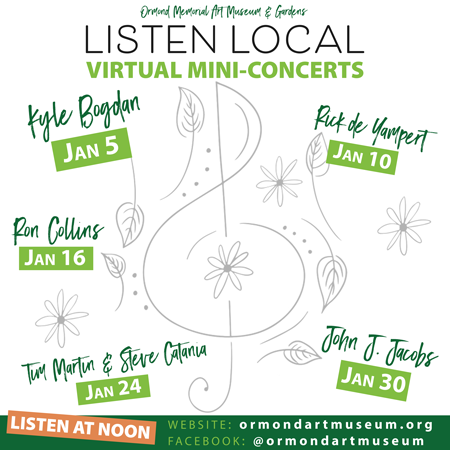 Music In The Gardens
Created to provide our community an intimate (but virtual) musical experience, our new Listen Local video series will feature pop-up performances recorded in the beautiful OMAM Gardens.
MINI-CONCERTS: January 2021
John J. Jacobs: 1/30
Tim Martin & Steve Catania: 1/24
Ron Collins: 1/16
Rick de Yampert: 1/10
Kyle Bogdan: 1/5
---
LISTEN LOCAL SERIES SONG VIDEO LIBRARY
---
John J "Jay Jay" Jacobs
ABOUT

John J. "Jay Jay" Jacobs is a self-produced singer/songwriter and loves to write and sing songs that have an optimistic point of view and are mostly about love and family.

FOLLOW

SUPPORT
---
Steve & Tim
ABOUT

Steve Catania, on the mandolin, & Tim Martin, on the musical saw, playing together in the OMAM Gardens.
TIM MARTIN moved to Ormond with his wife, Carol, a little over 5 years ago. He plays quite a few instruments, but mainly focuses on the musical saw. Self-taught, he earned 2nd place at the International Musical Saw Festival in California in 2019. He's practiced and performed all over the US over the last 11 years and has really enjoying playing with Jackson Creek Band (Joe & Katie Waller / Bill Dollahite) for almost 4 years.
STEVE CATANIA plays a variety of music (classical, Italian, gypsy jazz) and has performed professionally since the 1980s. He owned and operated Catania Folk Instruments in Pennsylvania from 1989 until 2018, manufacturing guitars, mandolins, dulcimers, kalimbas and various percussion instruments. After retiring, he and his wife, Tami, moved to Ormond Beach where he enjoys writing songs, playing tennis and painting seascapes.
---
Ron Collins
---
Rick de Yampert
ABOUT

Sitarick (aka Rick de Yampert) is a local sitar, Moyo drum and Native American flute player. He performs Asian chill, world fusion, trance, raga, Buddha lounge, Beatles and down-tempo chill-out music, and also some funky fusion and up-tempo, tribal dance soundscapes.
---
Kyle "Boggy" Bogdan
ABOUT

Kyle Bogdan performs his original song "Blue Green," which was written in tribute to his late grandmother and invokes the strong feelings of both love and loss.
---
De Luna
---
New Year's Virtual Concert
New music to help you celebrate the start of 2021!
Kyle "Boggy" Bogdan (guitar/vocals)
"Don't Let Me Down" [00:08 - 03:08]

Steve Catania (dulcimer/mandolin) & Tim Martin (saw)
"Morning Has Broken" [06:33 - 08:26]
"Somewhere Over the Rainbow" [08:30 - 10:35]

Rick de Yampert & Michelle Davidson (tongue drums)
"Enchanted Walk" [03:13 - 06:29]

De Luna (harp, drum/flute & vocals)
"The White Cliffs of Dover" [10:40 - 12:01]
"Thank You For This Day" [12:12 - 15:34]
---
Christmas Eve Virtual Concert
Music previously recorded in the beautiful OMAM Gardens to help get you in the Christmas Spirit! 
Steve Catania (dulcimer) & Tim Martin (saw)
"O Come, O Come, Emmanuel" [00:08 - 01:46]
"What Child Is This/Greensleeves" [01:46 - 03:24]

Dawn Sauer (vocals)
"God Is With Us" [03:28 - 08:10]

Ron Collins (guitar and vocals)
"Only on Christmas Day" [18:35 - 21:06]

De Luna (harp)
"Go Tell It On The Mountain" [08:14 - 09:00]
"The Ash Grove" [09:03 - 10:29]
"What Child Is This/Greensleeves" [10:30 - 14:26]
"Silent Night" [14:28 - 16:10]

Rick de Yampert (sitar)
"Joy to the World" [16:13 - 18:33]
---
If you're a local musician or vocalist and would like to participate in our Listen Local series, please email kheron@ormondartmuseum.org