OMAM Garden Map
featured plants | points of interest | military tributes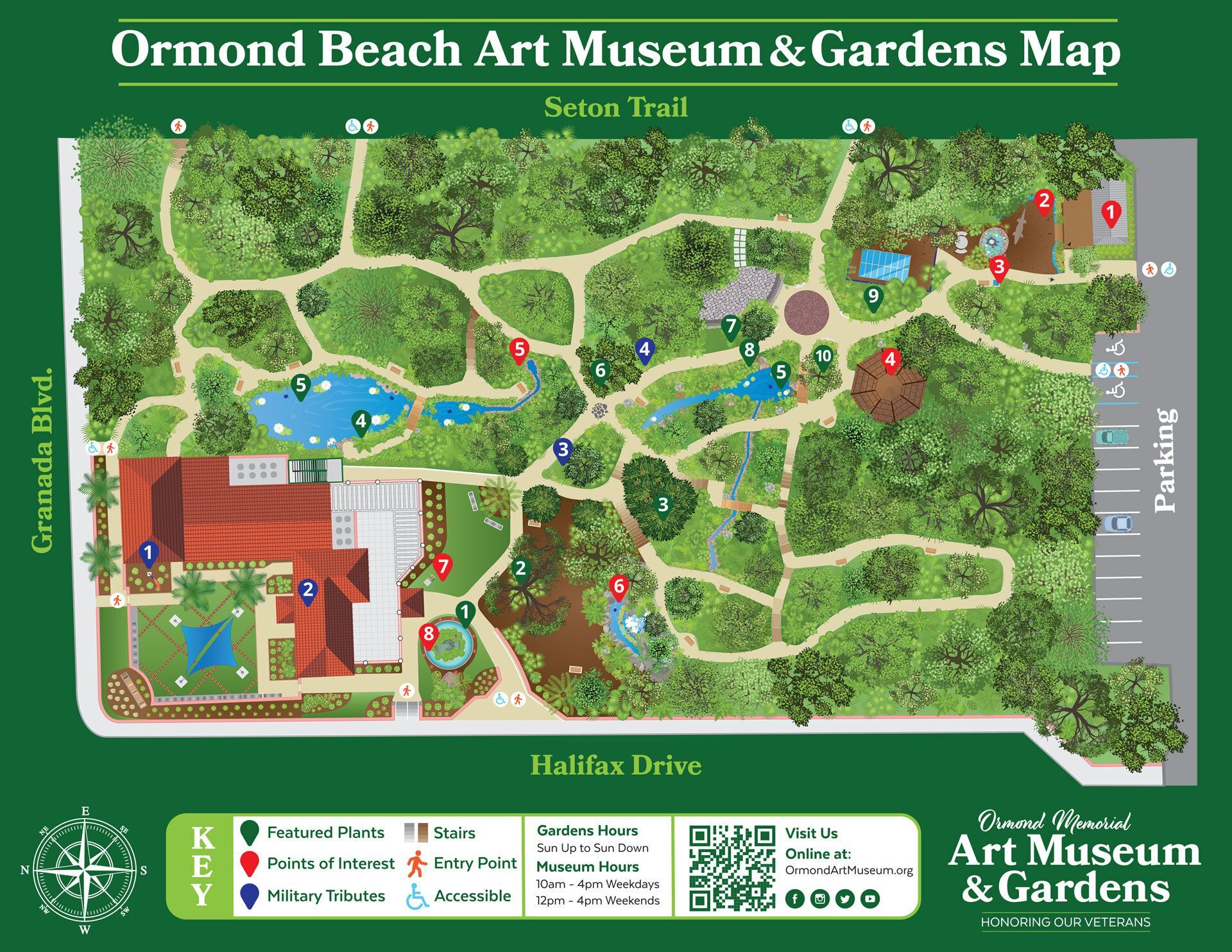 Click HERE to download the PDF version of this map.
---
Points of Interest 
1.  Emmons Cottage
This Victorian pioneer cottage (circa 1885) was constructed of termite-resistant Heart of Pine and relocated from North Beach Street. It was renovated by the Garden Club of the Halifax Country in 1998.  
2.  Sandy's Garden
Dedicated in 2006 to the late Sandy Baird, a past OMAM board president, this area was created through a partnership of artists and includes the mosaic wall, alligator bench, coquina rimmed pond, concrete turtle and fountain. 
3.  Free Little Art Gallery
Created in 2022 by Seabreeze high school senior, Annabella Olivari, the wood structure is styled after Emmons Cottage and filled with miniature artworks. Visitors are invited to both GIVE and DISCOVER art. 
4.  Gazebo
Completed in 1980 and designed by Robert G. Owens, this octagonal building is used for programs and weddings. The ornamental Labyrinth Walk was added in 2007.
5.  Seton Trail Spring
One of the original water features in the Gardens. 
6.  Waterfall
The waterfall was constructed in 1998 using native coquina rock. It was donated by Charles & Linda Williams as a primary feature of the Main Garden Entrance.
7.  Ann Heist Memorial Garden Kaleidoscope
Created by Wisconsin sculptor Robert C. Anderson, the kaleidoscope has a metal framework with a bowl of seasonal flowering plants as the object chamber. Spin the bowl to change what you see when looking through the eyepiece. 
8.  Peacock Fountain
Gifted by noted sculptress Mary Aldrich Fraser in 1950, this magnificent fountain is an exact replica of the fountain she created for the Sagtokos Manor in Long Island.
---
Military Tributes
1.  World War I Memorial
Located near the flagpole, this plaque honors all Ormond men who fought for our country in the first World War and serves as a loving remembrance of the three who made the ultimate sacrifice.
2.  World War II Memorial
Located in the Museum lobby, this bronze plaque honors the 221 Ormond Beach residents who served in World War II. The Gold Star List recognizes those who lost their life during combat.
3.  Vietnam War Veterans Tribute
Dedicated in 2011 and located along the main garden path, this bronze and granite sculpture by Gregory Johnson pays tribute to veterans of the Vietnam War.
4.  Korean War Veterans Tribute
Dedicated in 2010, this stainless-steel sculpture by artist Mark Chew simulates an eternal flame to honor Korean War veterans. It is located in the center of the gardens along the main path.
---
Featured Plants
1.  Sheba Bromeliad
Scientific Name: Neoregelia "Sheba" | Ideal Sunlight: Partial | Native: Americas
These plants receive their water and nutrients from the "cup" that is formed by their rosettes of leaves. On this variety the leaves are green with a creamy border when grown in shade and blush pink when they get more sun and the center turns red when they are about to bloom.
2. Slash Pine Tree
Scientific Name: Pinus Elliottii | Ideal Sunlight: Full | Native: Southeastern US 
These are our native pine trees. They have a long tap root which makes them sturdy in wind and drought tolerant. They often attract the attention of squirrels who enjoy chewing open their pinecones. 
3 Dragon's Nest Bamboo
Scientific Name: Bambusa Dissimulator | Ideal Sunlight: Partial | Native: Southeast Asia
A fast growing giant of the grass family. The 4 inch clumps can reach 50 feet. It forms a very dense thicket and like a Dragon's nest it is impenetrable and appears messy. 
4. Banana Plants "Lady Fingers"
Scientific Name: Musa Acuminata | Ideal Sunlight: Full | Native: Southeast Asia
This variety is called "Lady Fingers• because the fruit is small and sweet. The purple cone that hangs below the fruit clusters is a protective bract from which the banana flowers and baby bananas emerge. 
5. Water Hyacinth
Scientific Name: Eichhornia Crassipes | Ideal Sunlight: Full | Native: South America
These are aquatic plants that float on the surface of the water buoyed by air filled pods, the roots hang down into the water and filter out impurities. It has a lavender flower in the summer months. Very invasive in its growth, it is illegal to put in natural waterways. 
6. Staghom Ferns
Scientific Name: Platycerium bifurcatum | Ideal Sunlight: Partial (Indirect) | Native: Java & New Guinea
These ferns on the Elm tree are epiphytes, meaning that they hold onto the bark for support, but get their nutrients from the air and rain. The green fronds are fertile and carry spores, the brown infertile fronds cover the root structure. 
7. Lace Tree Philodendron
Scientific Name: Philodendron Selloum | Ideal Sunlight: Full or Partial | Native: South America
Large rich green and deeply lobed leaves cut in wavy patterns almost back to the center rib giving them a lacy appearance. These huge leaves growing on sturdy stems create a stunning tropical look. These plants are very old and have very long trunks that look like they have eyes where the old stems had attached to the trunk. 
8. Spider Lily
Scientific Name: Crinum Asiaticum | Ideal Sunlight: Full or Partial | Native: Southeastern US
This vase shaped plant blooms with spidery-looking scented white flower clusters on the end of heavy stems over the thick green leaves. 
9. Shell Ginger
Scientific Name: Alpinia Zerumbet | Ideal Sunlight: Full | Native: Eastern Asia
Tall stalks form a lush upright clump of lance-shaped shiny green leaves that have a spicy scent when crushed. The flowers are pink when in bud and hang in clusters and resemble seashells that open up to reveal bright red and yellow throats. 
10. Paperbark Tree
Scientific Name: Melaleuca quinquenervia | Ideal Sunlight: Full or Partial Native: Eastern Australia 
This tree from Australia has spongy and papery like bark that peels off in sheets. It blooms in the warm months with fluffy white flowers that resemble bottle brushes and have an unusual smell like mashed potatoes.