OMAM MILITARY TRIBUTES > WWI > WWII > KOREAN & VIETNAM WARS > VETERANS DAY
Annual Veterans Day Tribute
We gather each year on the 11th hour of the 11th day of the 11th month to honor those who have served.
Ormond Memorial Art Museum & Gardens was founded in 1946 by Ormond Beach residents as a living monument to creative freedom and equality of all persons, and to commemorate the service of World War I and World War II veterans who fought valiantly for that ideal. The community event is held under a large tent in our parking lot with music, inspiring speakers, light refreshments and a chance to write cards or letters for our local veterans. The event is free and open to the public. Ample free parking can be found behind The Casements and St. James Episcopal Church.
Join us under the big tent in the OMAM parking lot as we pay tribute to those who defend our freedom.
Friday, Nov. 11, 2022 @ 11:00 a.m.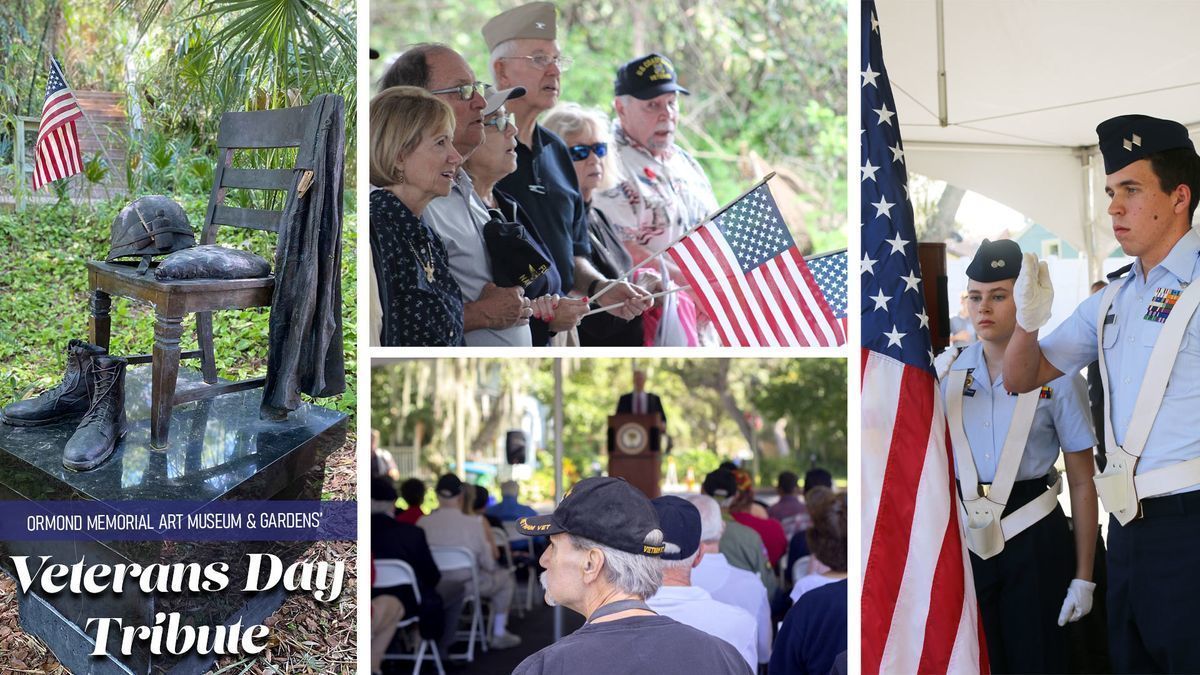 Free parking available at The Casements and St. James Church.
---
2021 Tribute:
Cathy Heighter is the co-founder of Remembering Vets, a charitable organization committed to supporting the needs of veterans of all eras, and is the American Gold Star Mothers, Inc., Daytona Beach Chapter President. Her son, Army Cpl. Raheen Heighter, was killed in 2003 while serving in Operation Iraqi Freedom. Cathy will be speaking with fellow Gold Star Mother Terri Gordon about keeping the promise to remember.

Certified Florida Military Specialist (FMS), Florida Board of Realtors
American Gold Star Mother's Inc. (AGSM) Chapter President, Volusia County, Daytona Beach
Honorary member of Rolling Thunder Chapter 8, Volusia County
Third Vice President of Volusia County Veterans Council
Honorary Member AVVA 1048 (Associates of Vietnam Veterans of America)
Former DAVA member, Daytona Beach Chapter 84, Chaplin, State Executive Committee Representative
Member of DAVA Palm Coast FL Chapter 86, Jr. Vice Commander
Volusia County Veterans Court Team, "Quilt of Honor Program"
Honorary Co-Chair for Intrepid Fallen Heroes Fund, contributor to publication of "Handbook for Family Members of Deceased Service Personnel"
Member of Congressional Legislation Team instrumental in increasing death benefits of Service Members of the United Stated Aimed Forces through legislative action. Legislation passed, and bill was signed to increase death benefit in 2005 by former President George W. Bush
Spokesperson for Intrepid "Fallen Heroes Fund" founded by the Intrepid Foundation, helping the foundation to raise millions of dollars to aid in suppo1t of Families of the Fallen, 2003-2005
Testified before Congress on behalf of Military Families, Farmingdale L.I. NY, 2004
HBO and Time Life Books, "Last Letters Home" documentary and book published to aid Fan1ilies of the Fallen 2004, feature story in documentary, Last Letters Home tribute to SPC Raheen Tyson Heighter
Co-founder of Remembering Vets, Inc., 501 (c)(3), charitable organization committed to supporting the needs of veterans of all eras through a variety of programs and services.
VVSO (Volunteer Veterans Service Officer) Daytona Beach DAV Chapter 84
Founder of Raheen's Legacy Scholarship Fund 2004 awarding over $10,000 in scholarships to graduating seniors from New York and Palm Coast, Florida
Recipient of Rosa Parks Sons & Daughters of Liberty Award, Brookhaven Rosa Parks Democratic Association, Brookhaven NY, 2008
Homeless Veteran Stand Down, Flagler County 2014
Homeless Veteran Stand down Volusia County 2014-2015
Graduate of Empire State College, Saratoga Springs, New York, 2013 with Bachelor of Science Degree

Music by Daytona Beach Choral Society

Attendees can expect to hear the National Anthem, and perhaps even a patriotic sing-a-long!

For more than 40 years, this community choir has brought the "joy of singing" to Volusia County. In addition to concerts that cover genres from classical works to contemporary pop, DBCS offers an outlet for our residents to learn new music, sight read, harmonize, exercise their vocal skills, and socialize with friends.

Last year, they tackled their first virtual project, a performance of "A Tribute to the Armed Services," which was arranged and orchestrated by Lloyd Larson (watch the video at https://youtu.be/mpSKI5Jwl1k). 

Captain William J. Toti, USN (Ret), is a business executive, photographer, and author who served more than 26 years on active duty in the United States Navy.

In the Navy, Captain Toti commanded Fleet Antisubmarine Warfare Command Norfolk, served as commodore of Submarine Squadron 3, and as commanding officer of the nuclear fast attack submarine USS Indianapolis (SSN 697). He also served for more than nine years in the Pentagon, including tours as special assistant to the Vice Chief of Naval Operations, as Navy representative to the Joint Requirements Oversight Council, and as deputy director of the Navy War Plans Cell, Deep Blue. In industry he has held executive positions at Raytheon, Hewlett Packard, Cubic, and L3 Technologies.  He currently serves as President and CEO of Sparton Corporation in DeLeon Springs, Florida.

Captain Toti holds a bachelor's degree in physics from the U.S. Naval Academy, a master's degree in spacecraft systems engineering, and the pre-doctoral Electrical Engineer degree from the Naval Postgraduate School. In 2012, he was a member of the White House Roundtable on Military Credentialing and Information Technology in support of President Obama's initiative to help service members receive civilian credentials and licenses.

He is an honorary survivor of the World War II cruiser USS Indianapolis, and his narrative describing his experiences during the September 11, 2001 attack on the Pentagon were incorporated into the book Operation Homecoming, published by Random House.  He has been featured in several global-release documentaries, including "9/11: One Day in America," "9/11: The Pentagon," "9/11: Inside the Pentagon," "USS Indianapolis: Live from the Deep," "USS Indianapolis: Legacy Project," and "USS Indianapolis: The Final Chapter." He has recently authored a book titled "From CO to CEO: A Practical Guide for Transitioning from Military to Industry Leadership," slated for publication in 2022.
♦ Captain William J. Toti, USN (Ret), a business executive, photographer and author with more than 26 years of active-duty service, will describe his experience surviving the September 11, 2001 attack on the Pentagon.
♦ Gold Star Mothers Cathy Heighter & Terri Gordon will speak about keeping the promise to remember.
♦ Daytona Beach Choral Society will perform live patriotic music.
♦ The Pilot Club of Daytona Beach will provide light refreshments in the Garden Gazebo after the ceremony.