Ormond Memorial Gardens
Soothe the Senses
The Memorial Gardens, our urban oasis, are a lush, tropical rain forest nestled into the heart of the Ormond beachside adjoining the Museum. They feature native and exotic plants, water features, artisan-designed walkways and a gazebo. Visitors can enjoy the solitude of a quiet bench or nook or walk the labyrinth inside the gazebo.
Designed by Belgian-trained Chicago landscape architect, Henry Stockman in the 1940s, the gardens feature both manicured landscape and natural areas. Numerous weddings are held in this magnificent setting.
The gardens feature both native and non native plant life. Click HERE to view the online guide of the "Plant This, Not That!" brochure.
The historic Emmons Cottage is a 1886 Florida Cracker Cottage relocated to our garden setting by local artist Sang Roberson and renovated by the Garden Club of the Halifax Country in 1998. The Club partners with the Museum to provide environmental art education in the cottage to local school children each spring.
The gardens have been tended by Garden Artisan Janett Van Wicklen Taylor for more than three decades, and the garden greenhouse created with the Garden Club of the Halifax Country is named in her honor.
Click here to view the "In the Gardens with Janett" photo series!
---
Free Little Art Gallery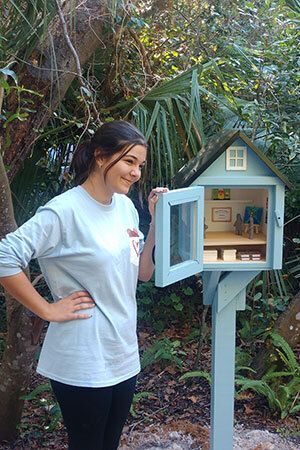 #makeArt #takeArt #shareArt
A magical new garden feature was installed in 2022 thanks to the wonderful and creative Annabella Olivari! On a mission to share her love of art with her community, the Seabreeze high school senior created a Free Little Art Gallery specifically for placement in the Ormond Memorial Art Museum's Gardens.
The small wood structure, with its gabled roof, is styled after OMAM's beloved and historic Emmons Cottage. Housing miniature works and tiny blank canvases, this Free Little Art Gallery provides a dedicated and accessible place for visitors to both GIVE and DISCOVER art.
Ribbon Cutting Ceremony: 10:30 a.m. Tuesday, Nov. 22, 2022
---