Dogapalooza
Dogapalooza began as part of a dog-themed art exhibition at OMAM in 2012, and has grown to become an annual dog-friendly festival with a focus on raising money for local animal charities. Reimagined to keep everyone healthy and safe, Dogapalooza 2021 featured an online photo costume contest for both dogs AND cats!
---
People's Choice Dog Division Winners
1st Place: Evie
291 VOTES
Evie likes to think she is a Volusia County lifeguard. When her human siblings are swimming, she's always on alert -- barking and jumping as they splash and go underwater. Nothing will happen on Evie's watch!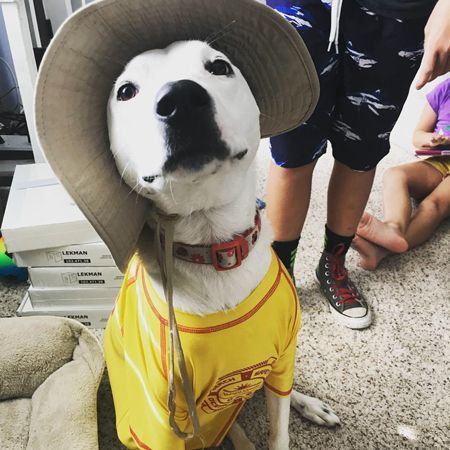 2nd Place: Ibis

Ibis is the absolute love of my life. I had her since she was born. She was born on March 21st 2004. I am absolutely devastated as Ibis passed away at home with family on December 28th 2020 after a long battle with cancer. She fought hard for so long and I like to think she passed from old age rather than the cancer. She had such a wonderful Christmas opening up her gifts and her passing was very sudden but her poor old body just couldn't do it anymore. Even though she was a part of my life for 16 years, 9 months and 1 week it wasn't long enough. Ibis was stricken with severe crippling arthritis around the age of 10 and we used a baby stroller to bring her around out in public. Ibis loved to get out and visit other people and places. Ibis got to go to Mardi Gras this year before Covid hit to celebrate her sweet 16. We tried to give her all the joys we could to enrich her life. She got to travel to Boston, Niagara Falls, NYC, DC, Salem, Savannah, Plymouth Rock. She loved her stroller and would throw a temper tantrum if you took her out. We were so blessed to have her in our wedding in October and it really was her day. She would have loved to of gone to Dogapalooza this year if Covid allowed. I still cry everyday and miss her so much.

3rd Place: Wolfgang

Wolfy is the sweetest, most lovable fluff in the world. His interests include going on his daily walk, wrestling with his little sister, keeping everyone safe from the vacuum cleaner, and spending time getting his daily cuddles.

The three dogs with the most online votes won a custom wood & resin ocean bone by Hailey Nolin.

The three dogs with the most online votes won a custom wood & resin ocean bone by Hailey Nolin
---
People's Choice: Cat Division Winner
1st Place: Miss Peanut
100 VOTES
Let's go for a picnic in the park... better yet, let's go to the gardens at OMAM! Hi! my name is Miss Peanut! I love my parents and all their friends!

The  feline with the most online votes won an original watercolor pet portrait painting (5x7) by ​Lisa Argentieri.

The  feline with the most online votes won an original watercolor pet portrait painting (5x7) by ​Lisa Argentieri.
---
Celebrity Judge's Honorable Mentions:
Honorable Mentions will receive a voucher for a Donnie's Donuts 4-pack (plain so it's safe for the doggies to eat too) and some Starbucks merchandise!
---
2021 Dogapalooza Events Timeline
JAN 2nd: Contest opens at 10am! Upload and vote (click here) at any point in our online photo costume contest before it closes at noon on Friday, Jan 22.
 
JAN 7-31: Shop or support past Dogapalooza vendors in this online marketplace.
 
JAN 13-31: Visit our friends at Donnie's Donuts to buy an official Dogapalooza doughnut! Each purchase of these $3 tasty specialty items will equal a $2 donation to our local animal charities. Donnie's also will be collecting new pet food items for Sophie's Circle Pet Food Pantry.
 
JAN 17th: Our friendly neighborhood Starbucks (125 E. Granada Blvd) is hosting a special Supply Drive-Thru (9-11am) to collect commonly needed shelter items for the Halifax Humane Society! While you're there, be sure to get a free Puppachino for your pooch! Remember to take video of your doggy enjoying their whipped treat and post it on social using #pupcupchallenge #dogapalooza
 
JAN 18th: Watch this #CreateInPlace video to learn how to turn paw prints into a beautiful art piece!
 
JAN 19th: Take this Canvas & Cocktails painting class with sparkling artist Nettie Price live via Zoom! Register by Jan. 17th.
 
JAN 20th: Father Roy of St. James Episcopal Church shares a special message and blessing in this video!
 
JAN 21st: It's Bark & Brews Day at Ormond Brewing Company. Sit (socially distanced) outside with your pup and enjoy a cold one! 
 
JAN 22nd: Voting ends at noon! $1 = 1 vote with ALL net proceeds benefit Great Dawg Rescue of Ormond Beach, the Halifax Humane Society and Sophie's Circle!
 
JAN 23rd: The contest winners will be announced in a special video with celebrity judge Hailey Nolin and our VP of Barketing Django Valentine!