Robin Weiss: April 6 - May 3, 2021
OMAM Pop-Up Window Exhibit @ 9 W Granada Blvd
Presented by Lowell & Nancy Lohman
Robin was recently named one of "11 artists to collect now" in the national Plein Air magazine! Click HERE to shop Robin's art.
---
Artist Statement
"As a full-time artist, working mostly in plein air, I appreciate the incredible beauty that surrounds us. I strive to reflect that beauty on canvas, utilizing light and color to create a scene that captures the eye and draws a person in to experience the atmosphere of the place."
About the Artist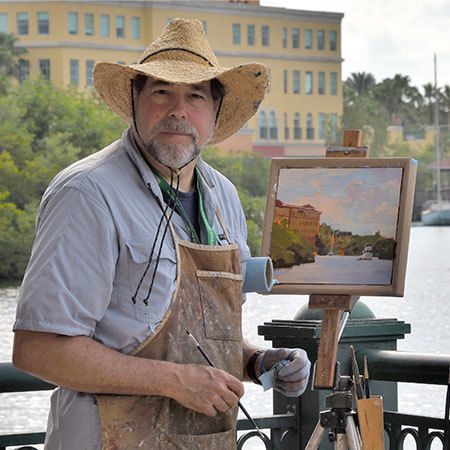 Growing up in Ohio, I began drawing at an early age.  My first art teacher, Louis Penfield, was a great mentor who encouraged me to sketch and paint from life.  We created artwork and also constructed a studio adjacent to his home, designed by Frank Lloyd Wright.
During my time in the US Navy, I painted scenes of the ship in watercolor. Later, I relocated to the state of Washington and studied architectural engineering at Olympic College as well as art, and soon decided to focus on my artwork.  Early influences were Deanne Lemley and Jane Wallace, both successful local artists. 
In 2006 I joined the daily painters movement after reading about Duane Keiser and Julian Merrow Smith.  I was motivated to enhance the quality of my paintings and I was inspired by the dedicated artists I met online.  My artwork vastly improved as a result of this exposure and practice. Painting full-time now, primarily in oils, I hope to continue to grow as an artist, both in technical skill and artistic interpretation.  I currently paint and teach at Knowles Studio in Poulsbo, alongside printmaker and art instructor, Leigh Knowles Metteer. 
I have attended numerous courses and workshops by outstanding artists such as Darrell Anderson, Jim Lamb and Ned Mueller.  My paintings are represented by The Michael Birawer Gallery in Seattle WA, The Cole Gallery in Edmonds, WA, the Roby King Galley in Bainbridge Island, WA, and the Oh Be Joyful Gallery in Colorado.  
Some recent awards include Best in Show, Central City Plein Air 2018, First Place, Winslow Plein Air 2017, Spirit of the Peninsula Award, Paint the Peninsula 2016, Best of Show and Artists Choice Award, Paint the Peninsula 2015.
Learn more about Robin and see his work at robinweissfineart.com