Intro to Plein Air Painting with Robin Weiss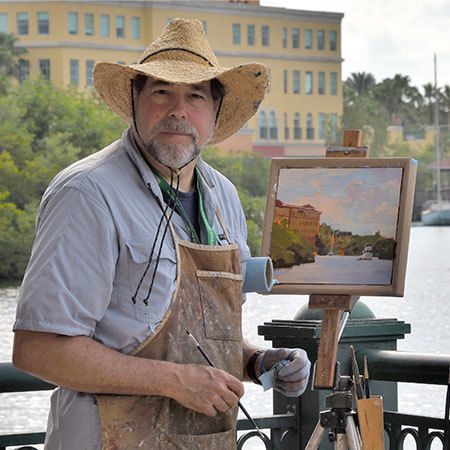 plein air: of or relating to painting in outdoor daylight
Workshop Day 1
TIME/DATE: 9:00 am - 12:00 pm Friday, April 9th
LOCATION: Bailey Riverbridge Gardens, 1 N Beach Street, Ormond Beach
Workshop Day 2
TIME/DATE: 9:00 am - 11:00 am Saturday, April 10th
LOCATION: Fortunato Park, 2 John Anderson Drive, Ormond Beach
Please join visiting Washington artist Robin Weiss for a two-day plein air painting workshop, held in the heart of picturesque Ormond Beach. You will learn about plein air painting gear and Robin's set up, with tips on traveling light to capture the landscape. Good design principals and finding a good composition will be discussed, including simplifying a complex scene.
Robin will do a demonstration during the workshop and then work with each student as they put into practice what they have discussed. Students are responsible for supplies; please see supply list. Open to participants 16 & older, with some painting experience.
LEVEL: Beginner/Intermediate (new to plein air with some painting or art experience)
COST: $112.50 museum members or $125 future members
REGISTRATION DEADLINE: April 7. Click HERE to register.
Student's Supply List
Please bring these items with you to the workshop!
Outside painting equipment such as a travel pochade box with tripod or French easel (If you need to arrange for an easel loan, please contact Kristin Heron at KHeron@ormondartmuseum.org)

Odorless turpentine container (no glass)

Trash bag

Paper towels
Small sketchbook
Blunt point palette knife (Robin uses size 1 1/4")
Four canvas or linen panels: size 8x10, 9x12 or 11x14
Brushes: size 4-8 bristle, size 4-6 synthetic mongoose or similar, one rigger or liner brush for detail
Paint, any brand (Robin uses M Graham oil paint and suggests a "split palette" of warm and cool primaries with white and a few extras. Oils are best for plein air painting, but if you're accustomed to acrylics you may use those):


Titanium White
Cadmium Yellow, Yellow Ochre
Permanent Red, Alizarin Crimson
Viridian
Ultramarine Blue, Cobalt Blue
Transparent Red Oxide
Optional colors: Radiant Blue, Radiant Turquoise (Gamblin colors), Ivory Black (for mixing dark greens), Cad Orange (so you don't have to mix it)