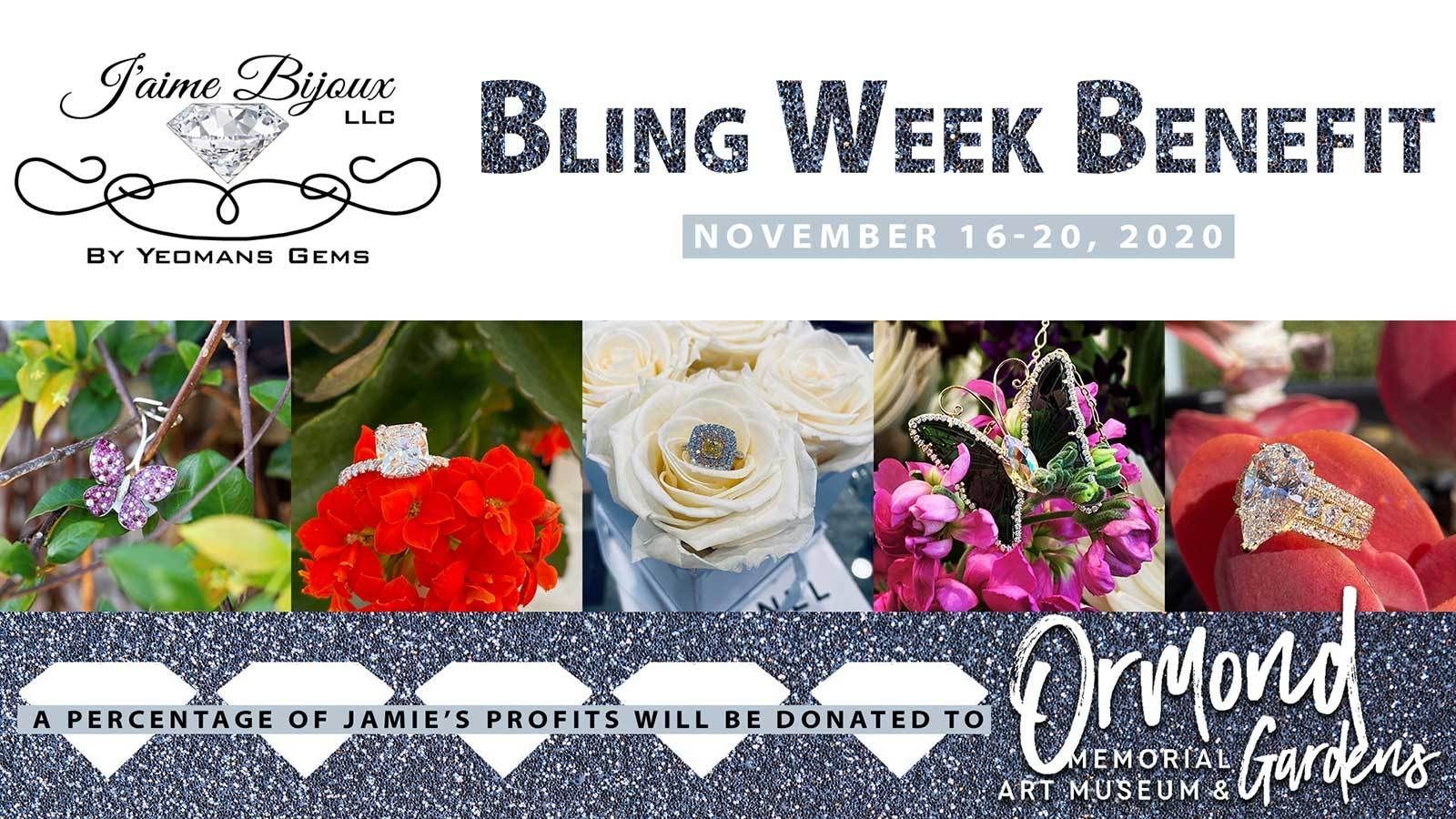 J'AIME BIJOUX BY YEOMANS GEMS presents
Bling Week
A Benefit for OMAM: Nov. 16-20, 2020
Get a jump on your holiday shopping by purchasing fine wholesale jewelry that gives back to the Ormond Memorial Art Museum & Gardens (aka Ormond's "Hidden Gem"). J'aime Bijoux by Yeomans Gems will donate a portion of profits to OMAM during Bling Week (Nov. 16-20, 2020), so show your support with a little sparkle!
Be sure to follow us on social to see our stories each day highlighting these beautiful and unique pieces.  Also, those who book and attend an appointment with Jamie (virtual or in-person) for "Bling Week" will get entered into a drawing for a chance to win cool prizes! 
To set your consultation or private shopping time with Jaime, please call or text her at (386) 795-1726. 
If a featured piece of jewelry catches your eye, be sure to note the item number and reach out to Jamie ASAP as items sell fast. Most are one-off pieces, but J'aime Bijoux by Yeomans Gems has an impressive selection offering a variety of styles and price points, and can create custom pieces as well.
Bling Week Featured Selections
Item# 01

18k white gold earrings with rose-cut diamonds = a $200 donation to OMAM

Item# 28

18k yellow gold hoop and diamond earrings = a $175 donation to OMAM

Item# 50

14k yellow gold opal and diamond halo ring = a $50 donation to OMAM

Item# 54

14k yellow gold diamond circle spinning ring = a $200 donation to OMAM

Item# 67

Rose gold diamond and faceted marquise-cut opal ring = a $100 donation to OMAM

Item# 10

14k white gold diamond flower cluster (1.00 ctw) = a $50 donation to OMAM

Item# 21

18k white gold earrings with rose-cut diamonds 3.75 ctw = a $250 donation to OMAM

Item# 24

18k white gold big to small bezel diamonds (small to big) drop earrings = a $250 donation to OMAM

Item# 61

diamond (0.28 ctw) by-the-yard necklace available in rose, white & yellow gold = a $75 donation to OMAM

Item# 64

18k yellow gold ring features two collection-quality diamonds, bold orange enamel and artisan engraving = a $250 donation to OMAM

Item# 09

18k white gold diamond cluster necklace = a $150 donation to OMAM

Item# 19

18k white gold diamond fan earrings = a $150 donation to OMAM

Item# 45

14k white gold three clover .55 ctw diamond earrings = a $100 donation to OMAM

Item# 51

Yellow & white gold ring with yellow and white diamonds = a $200 donation to OMAM

Item# 65

Designed in Beverly Hills, this custom, filigree-engraved platinum ring features a stunning duchess-cut diamond surrounded by collection-quality diamonds and electric as diamond and silhouette-cut rubies = a $275 donation to OMAM

Item# 05

14k white gold oval halo engagement diamond ring = a $275 donation to OMAM

Item# 16

18k white gold flex double coil eternity bracelet = a $150 donation to OMAM

Item# 40

18k white gold agate and diamond emerald-cut stud earrings = a $150 donation to OMAM

Item# 48

14k white gold diamond chandelier earrings = a $175 donation to OMAM

Item# 68

Moonstone teardrop pendant capped with rose gold and diamonds = a $200 donation to OMAM

Item# 23

14k white gold bezel drop diamond earrings 1.00 ctw = a $100 donation  to OMAM

Item# 43

14k rose gold pavè diamond disc earrings = a $150 donation to OMAM

Item# 53

Platinum & diamond cocktail ring = a $100 donation to OMAM

Item# 63

14k rose gold moonstone and multicolored rose-cut diamond ring = a $150 donation to OMAM

Item# 66

18k rose gold diamond and faceted moonstone butterfly pendant set to the side = a $150 donation to OMAM

Item# 30

Yellow gold yellow cushion cut diamond 5.85 ctw eternity ring = a $300 donation to OMAM

Item# 49

Yellow gold diamond by the yard necklace = a $150 donation to OMAM

Item# 47

18k white gold diamond and tourmaline earrings = a $200 donation to OMAM

Item# 52

18k white gold half-coin diamond bracelet = a $150 donation to OMAM

Item# 56

18k white gold diamond 4.65 ctw tennis bracelet = a $175 donation to OMAM
J'aime Bijoux by Yeomans Gems  |  444 Seabreeze Blvd., Suite 617, Daytona Beach, FL 32118
WEBSITE: yeomansgems.com  |  CALL/TEXT: ‪(386) 243-4399  | EMAIL: jamie@yeomansgems.com