Tie Dye with Natural Plant Dyes
A VIRTUAL FAMILY ART NIGHT PROJECT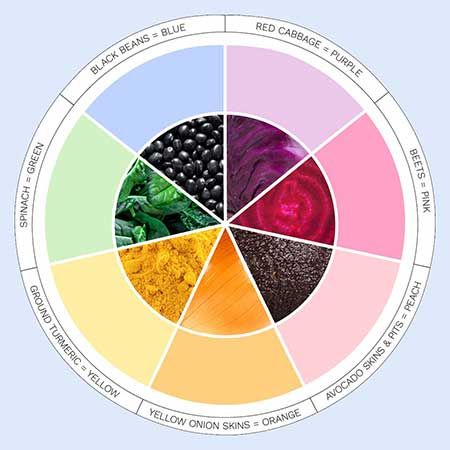 Learn how to tie dye a shirt using color from natural plants in this video tutorial by artist and OMAM gallery coordinator Michelle Davidson! 
GATHER THESE ITEMS TO CREATE ALONG WITH US:
3 rubber bands

100% cotton white shirt

3 large cooking pots

gloves, optional

plant dye of your choice (see color wheel)

vinegar

strainer

measuring cup & measuring spoon

water

stove top

hot pad, potholder or oven mitt
"Natural Tie Dye" Art Tutorial Video
Natural Plant Tie Dye Instructions
Step 1:

Find a 100% cotton white shirt that you can use to dye.

Step 2:

Lay out shirt flat on a table. Find 3 rubber bands. Follow directions on how to tie a spiral design

Step 3:

Gather natural plant dye material. You can use plants, spices, and vegetables you have around the house. Refer to dye color wheel to choose desired color. For this project I am using turmeric powder, yellow and dried hibiscus flowers for pink.

Step 4:

Preparing dye fixative: Put a large cooking pot on the stove top. Measure 3 cups vinegar and 12 cups water and put into pot. Put burner on high and let mixture come to a boil. Add shirt into pot and boil under medium heat for 1 hour.

Step 5:

Preparing natural dye. On another burner put a large cooking pot and add 12 cups of water. Put on high. Decide on a plant/dye color. Cut up plant or vegetable material. Use 6 cups material and add to water pot and bring to a boil for 30 minutes. If using spice powder use 15 tablespoons to 12 cups of water.

Step 6:

Get another large cooking pot and put in sink. Put strainer over pot in sink. Take dye mixture off stove top with a hot pad and pour through strainer. Dispose of plant ingredients in strainer.

Step 7:

Once shirt in fixative solution is done, take off stove top with a hot pad and pour out liquid in sink. Rinse entire shirt in cold water. Ring out extra water. Be careful shirt might still be hot.

Step 8:

Add shirt to the pot with natural dye liquid. Put on stove top on medium heat and simmer for an hour. Once adequately dyed, place shirt into plastic bag and seal. Let shirt set in bag overnight.

Step 9:

Take shirt to a sink or hose outside. Rinse with cold water about three times removing excess dye.

Step 10:

Remove or cut rubber bands and hang to air dry completely

Step 11:

Then to further heat set the dye, run the item through the drier on high for about an hour.

NOTEWash your natural tie-dyed shirt by hand only with a very mild detergent.