Rolled Paper Sculpture
A VIRTUAL FAMILY ART NIGHT PROJECT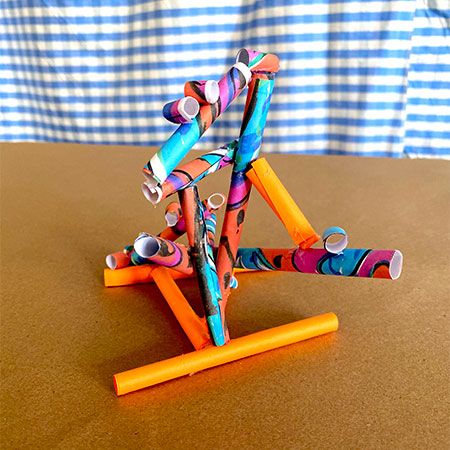 Join artist and teacher Linda King to learn how to make a sculpture from rolled paper!
GATHER THESE ITEMS TO CREATE ALONG WITH US:
a straw

sheets of paper

markers or crayons

scissors

hot glue gun works best, but you can use white glue, clear tape or a glue stick instead
"Rolled Paper Sculpture" Art Tutorial Video
Rolled Paper Sculpture Instructions
Step 1:
Use markers and/or crayons to color one side of your paper. Make the patter or design fill up the entire space. You can also incorporate pieces of plain paper or printed paper from magazines.
Step 2:
Cut all of the paper into various sizes of rectangles.
Step 3:
Roll the paper rectangles (design side up) onto a straw. Glue the end of the paper to hold the roll secure, and then slide the paper roll off the straw. Repeat until all rectangles are rolled into various lengths of tubes.
Step 4:
Make a base for your sculpture by gluing 3 or 4 rolls together in a rectangle or triangle shape.
Step 5:
Building up from the base, glue the remaining rolls together to create your sculpture.
TIPS!
Hot glue works the best and the fastest.
White glue works well, but will need time to dry.
Glue stick isn't as strong so you may need to supplement with clear tape.