Woven Circle
A VIRTUAL ART OF HEALING PROJECT
Sponsored in part by AdventHealth, our free Art of Healing outreach is offered to anyone in a medical situation, caregiver, healthcare worker, survivor or person in need of reflective time.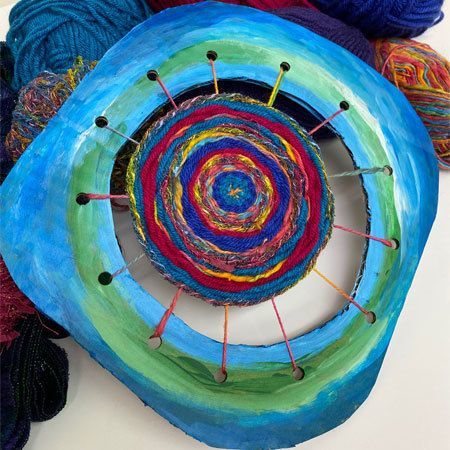 Please join us for a virtual Art of Healing workshop and make a Woven Circle. Learn the weaving technique to create this piece of artwork, and delve into circle symbolism and how your woven circle can be a metaphor for the ups and downs of life and used as a meditation tool.
This project is good for all skill levels! Get your step-by-step instructions by watching the video tutorial.
Supplies:
cardboard
scissors
X-Acto knife
hole punch
pencil
acrylic paints, brushes, water cup
various yarns and fibers
beads and embellishments
Woven Circle Art Project Video Tutorial
makers gallery
"This project reminded me how beautiful and fulfilling my life journey can be with the right perspective.  Life is never done, so take it as it comes.  As you weave your life give yourself space in every step to grow, learn and enjoy every part of the journey exactly where you are each day.  You may have an idea of what you want your life to look like, but it always has an expected twist or change that creates something different -and always for the better if you leave space, open your mind and embrace your flow with life where ever it may be at the time." — Art of Healing participant, 5/31/21

"I don't think I can choose just one favorite part of this project. Because, with each of the creative steps(cutting, making holes, painting, inking, choosing fibers and weaving) each one gave its own pleasure and enjoyment. I found my "circle" very quickly evolved, into something quite organic: isn't life that way? And as new colors, new textures and directions came in, each wove easily into and onto the previous ones. Adding a piece of driftwood was not planned. But then, how much of life really is?" — Angie Raab, 6/06/21
Please join our Art of Healing Community:
There will be no Zoom Social held this month. Instead, please email photos of your completed project and a short written response to the project (see response ideas below) to Kristin at KHeron@ormondartmuseum.org. Then visit the Maker Gallery or Facebook Event a few days after the video release, to see what your classmates made!
If you loved making this project, please provide your creative written response. Your response can be as simple or detailed as you'd like. Here are some prompts to give you ideas for what to write about:
What was your favorite part of this project? (working with your hands, designing the loom with paint, choosing the fiber design, reflecting on the meditative aspect of the project, etc.)

Did this project introduce you to something new? Is this your first time making a circle weaving or have you made something like this before?

Or, please write your own creative response to how this project made you feel.