Lotus Lantern Art Project Video Tutorial
Sponsored in part by AdventHealth, our free Art of Healing outreach is offered to anyone in a medical situation, caregiver, healthcare worker, survivor or person in need of reflective time.
Lotus Lantern
A VIRTUAL ART OF HEALING PROJECT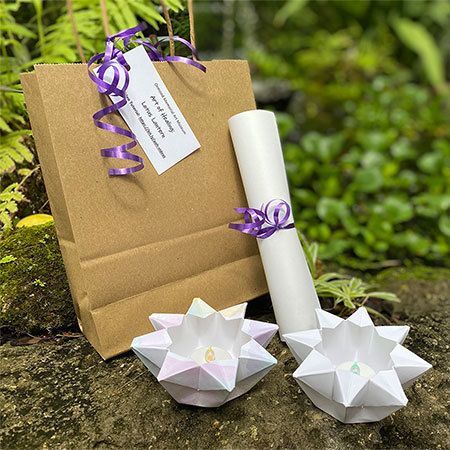 In this free Art of Healing virtual workshop led by Kristin Heron, each participant will learn the technique to fold a Lotus Lantern, which can then be used as a light to symbolically guide your unwavering faith along life's journey. Learn why the lotus has long-been seen as an emblem of rebirth and survival.
The workshop will conclude with a simple meditation that uses the lantern as a totem, that can be practiced daily for a moment of pause.
Supplies:
multiple pieces of cardstock
electric tea light
meditation scroll
scissors
spoon or bone folder (for making sharp creases in the paper)
watercolors, colored pencils, or crayons – any colorful art supplies you love to create with (optional if you'd like your Lotus Lantern to have color)
---
Join our Art of Healing Community!
Please email a photo of your completed project and a written reflection inspired by the project to kheron@ormondartmuseum.org.