Fall Foliage Collage
A VIRTUAL ART OF HEALING PROJECT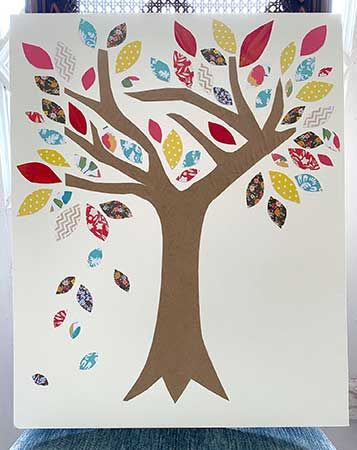 Get inspired by autumnal colors and create a Fall Foliage Collage in this virtual workshop led by Kristin Heron.
No art experience is needed. Sponsored in part by AdventHealth, OMAM's popular Art of Healing program is a free art experience offered monthly to anyone in a medical situation, caregiver, healthcare worker, survivor or person in need of reflective time.
SUPPLIES:
Mat board*
Scrapbook paper*
Brown paper*
Glue stick
Pencil
Scissors
Any personal items like photos, fabric, quotes or other flat media to include in the project
*Items included in the free supply kit.
The free supply kits (limited to the first 20 registrants) have all been claimed for this project, but the full instructional video will be posted here on Thursday, October 22. Registered participants can pick up their supply kit at the museum weekdays 10:30 a.m. and 3:30 p.m. October 13-21.
Fall Foliage Collage Video Tutorial
INSTRUCTIONS
Step 1:

Use a pencil to draw the outline of a tree trunk and branches on the brown paper, and then cut it out

Step 2:

Glue the tree trunk to the mat board with a glue stick.

Step 3:

Cut out enough leaves to fill the branches of the tree.

Step 4:

Flip through a magazine to find inspirational words, cut out the words, and glue them onto some of the leaves. You don't need to add a word to every leaf.

Step 5:

Before gluing them down, arrange the leaves around the tree branches.

Step 6:

Glue down the leaves with a glue stick.
MAKERS GALLERY