Colorful Eyeglass Case
A VIRTUAL ART OF HEALING PROJECT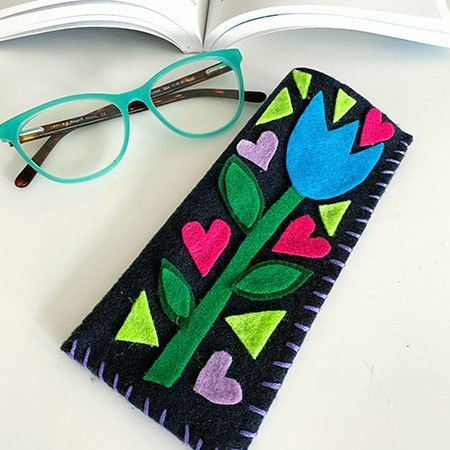 Sponsored in part by AdventHealth, Art of Healing is a FREE outreach program we offer monthly to anyone in a medical situation, caregiver, healthcare worker, survivor or person in need of reflective time.
Make a colorful case to store your reading glasses or sunglasses in this free Art of Healing virtual workshop led by Kristin Heron. This project is good for all skill levels! Just watch the online tutorial to get your step-by-step instructions. The video will be available to view online by 10 a.m. Wednesday, January 27.
A limited-number of FREE supply kits are available to those who register. Registered participants should pick-up their supply kits January 26-27 (10:30 a.m. and 3:30 p.m.) at the Museum. Registered participants also receive an email with the meeting link to the Zoom Social, which will begin at 2:30 p.m. Thursday, January 28. The social time provides an opportunity for us to discuss this month's project, share anything creative you're working on in your home studio, and to catch up with our Art of Healing friends!
IMPORTANT DATES
Supply Pickup: Jan. 26-27 between 10:30am and 3:30pm
Video Tutorial Posts: Jan. 27 @ 10am
Live Zoom Social: Jan. 28 @ 2:30-3pm
SUPPLY KITS INCLUDE:
various colors of felt
needle
embroidery thread
Please gather these items on your own:
HOW TO JOIN
1. Register online (click here)
2. Pickup your free supply kit between 10:30am-3:30pm January 26-27.
3. Watch the online tutorial to complete your project (video posted by 10 a.m. Wednesday, 1/27)
4. Join the Live Zoom Social from 2:30-3:00 p.m. on Thursday, 1/28, to talk with the class, show us your project in progress, and get any help you need (a meeting link will be emailed to you)
Colorful Eyeglass Case Video Tutorial