Burst Book Video Tutorial
Sponsored in part by AdventHealth, our free Art of Healing outreach is offered to anyone in a medical situation, caregiver, healthcare worker, survivor or person in need of reflective time.
Burst Book
A VIRTUAL ART OF HEALING PROJECT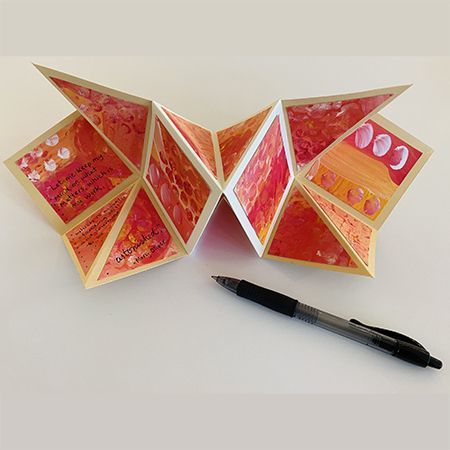 Create a "Burst Book" to express an outpouring of gratitude during this month's Art of Healing virtual workshop led by Kristin Heron. Learn how to fold and paste paper into this impressive, pocket-sized piece of art.
We'll use paint and collage techniques to decorate the book and then write your favorite quotes, words, verses or sayings that give thanks. Or, carry the book with you during the holiday season to use as an artful journal to record your thoughts of gratitude. No art experience is needed.
SUPPLIES:
white and colored paper
pencil
scissors
ribbon
ruler
glue stick
paint
paintbrush & water cup
small piece of scotch tape
optional: crayons, bubble wrap, leaves, gel pens
---
Join our Art of Healing Community!
Please email a photo of your completed project and a written reflection inspired by the project to kheron@ormondartmuseum.org.
MAKERS GALLERY