Flextangles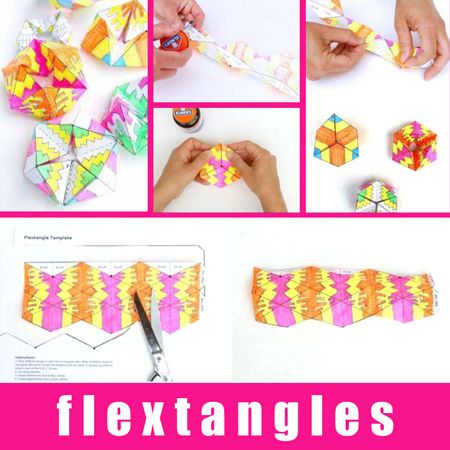 What is a FLEXTANGLE or KALEIDOCYCLE?
It is a paper sculpture
It is folded like origami
It is kinetic—it can move!
STEPS
Download the template here (PDF)
Draw different designs in each row of triangular sides. Refer to Pattern Guide for row layout. Be sure to connect the designs at the tick marks.
Cut along bold line.
Crease dashed lines face to face. Unfold.
Crease diagonal lines back to back. Unfold.
Gently fold paper to match dot to dot and form a tube.
Add glue on tabs marked GLUE and press together.
Add glue on end tabs and tuck into open end of tube. Press to seal.