Beginning, Beginning Watercolor 5-Class Series with Pam Bleakney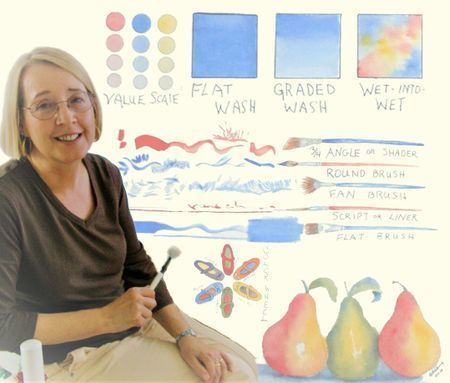 Experience the thrill of the pigment and water coming together in your creation.
DATES: Tuesdays 10/11, 10/18, 10/25, 11/8, 11/15 (no class on 11/1)
TIMES: 10:00am-12:30pm
This class series is designed primarily for students with no watercolor experience, but a burning desire to learn the basics. We'll experiment with different brushes, pigments, techniques, learn composition, plus we'll paint simple landscapes, animals and flowers. After five classes with instructor with Pam Bleakney, you will know watercolor basics and feel confident beginning your next watercolor class or painting. Open to participants 16 and older. Students are responsible for all supplies; please see supply list below.
SUPPLY LIST:
PAPER: Watercolor pad (inexpensive 140lb or better weight, cold press, at least 9"x12").

PAINTS: Cadmium Red, Cadmium Yellow, and Ultramarine Blue (primary colors). Later we'll add Cobalt Blue, Permanent Rose, Lemon Yellow, Burnt Sienna and Sap Green.

PALETTE: Purchase a plastic palette with at least 8 wells for paint, or a large plate.


WATERCOLOR BRUSHES: Rounds and Flats, sizes 6, 8, or 10. You will only need 2 inexpensive brushes to start and I'll have brushes you may borrow. Robert Simmons brand are inexpensive and a good value.


FOR DRAWING: Sketch pad, #2 pencil, eraser (gum or white plastic), a folder to store your work in.


PAPER TOWELS