"Sicilian Lemon" Ceramic Plate Painting with Mari Hurley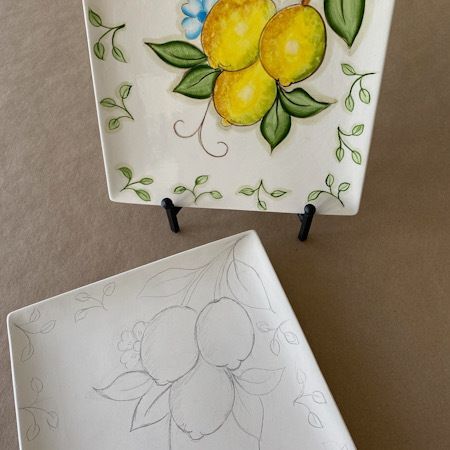 Ceramic painting is a fun and rewarding hobby! For this workshop, no experience is needed to bring color to life and create a beautiful Sicilian Lemon plate.
Each plate has a pre-hand drawn design by the teacher, and students will be guided through the painting process, learning techniques for coloring and shading the design.
At the end of class, participants will leave their plate for the teacher to fire in a kiln at 1900 degrees and can pick their plate up a week later. Along with enjoying the experience and learning painting techniques, participants receive a food safe plate that makes a heartfelt gift or useful keepsake.
Open to participants 16 and older. All supplies are included in the registration fee ($40 museum members; $45 future members).
---
About the Instructor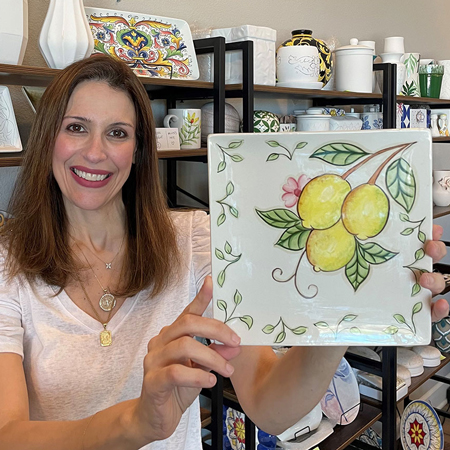 "Ceramics came into my life through a friend in 2004. I took classes for a few years and studied Italian, Portuguese, Spanish, and Moroccan styles, among others. A few years later, during the pandemic, I realized that I truly missed the comfort and peace that ceramics brought into my life, so I decided to order a few pieces and jump back in. Some of my friends started asking me to teach them after seeing some of my pieces so I decided to give it a try. We had a wonderful time socializing while working on a project of their choice. I was having a hard time finding a place to fire the pieces and because of that I bought a kiln. That's when I dediced to make it official and share my passion with my friends and their friends . It has been wonderful to see them paint beautiful ceramics." — Mari Hurley