Quality Time Online - Art Workshop 1: Value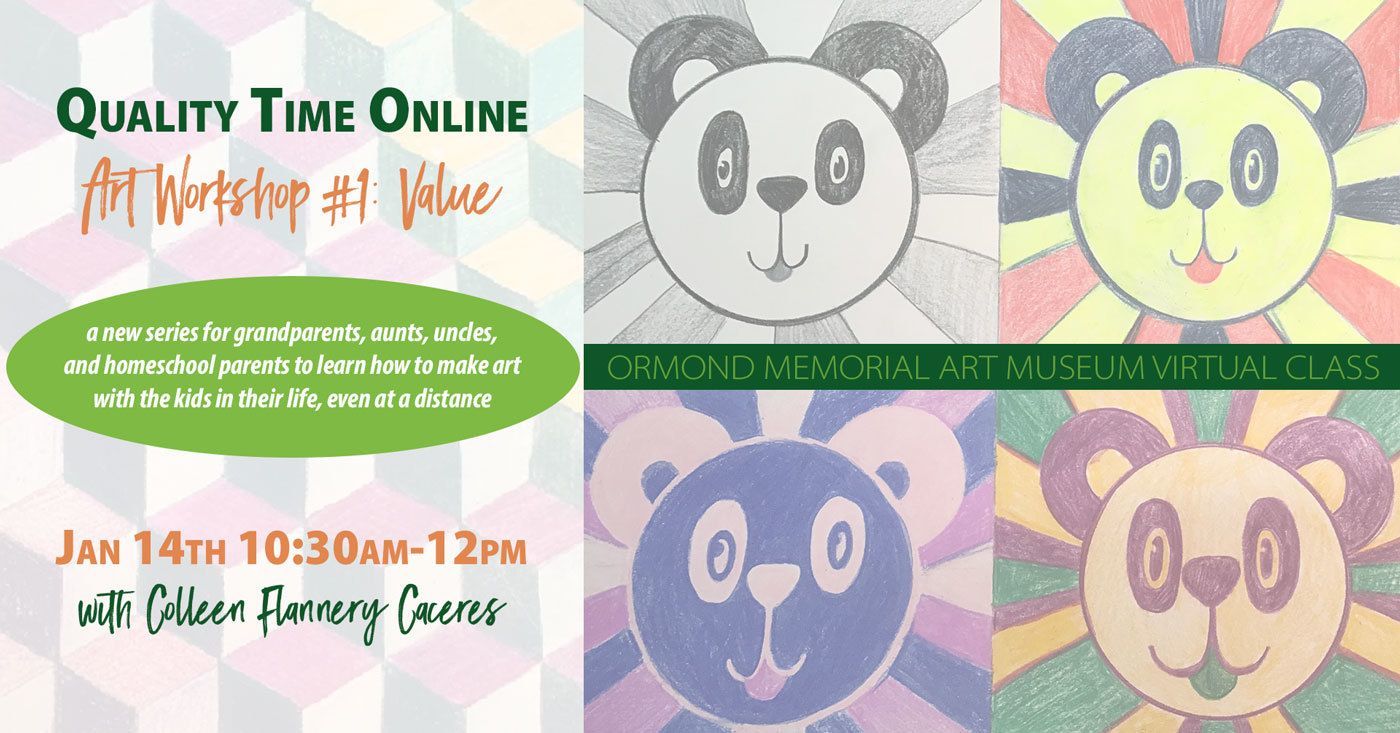 "Quality Time Online" is a new series of classes designed for grandparents, aunts, uncles, and homeschool parents. Learn how to connect with the children in your life from a distance by sharing the seven elements of art with them virtually.
ABOUT WORKSHOP #1: VALUE
In this class you'll learn how to teach the children in your life the art element of value. From black and white to a three-color scheme, learn how to share the artistic element of value in a way that's fun and interesting to you both. We will review famous artwork that uses value and then create an art project that you can do with your grandkids.
The instructor will teach you how to draw a simple character and a geometric design, and then apply the art element of value. No matter their age and skill level, we'll talk about projects you can create together and how you can connect with them through art at a distance.
Cost: $25 (museum members) / $28 (future members). Registration closes January 12th. Click here to register. Participants are responsible for supplies. Please gather these items before class: paper or a blank white card and crayons or color pencils.
MORE ABOUT THE SERIES
Value, line, color, shape, form, texture and space are the basic building blocks of art. During each class you'll learn about one of these art elements and create a project that you can then recreate with your grandchild online. Our art will be created on a card which you can then send as an invitation to your loved ones to join you virtually for an art class that you lead. Then, you can make cards together, maybe even add a message and mail them to each other as keepsakes of your time learning together.
Each class covers a different art element, examples of artists who use it and a new creation. We will also be discussing the abilities of and activities suited for different ages, so you can have a fun experience with your grandkids virtually. This class is designed for grandparents, but is well suited for aunts and uncles, and even homeschooling parents! What is designed here to be taught virtually can certainly be shared in person. Look for a new class each month! Sign up for one, or all seven.
ABOUT THE INSTRUCTOR
Colleen Flannery Caceres is an artist, mother and teacher. She has taught art to young and old, in person and virtually. She studied illustration in college, worked as a studio artist professionally for nine years, and has worked as a freelance artist for 30 years. Colleen has also studied early childhood education and high school art. She is currently homeschooling her two kids. She creates and teaches in many media.