Virtual Weekly Art Camps: Ages 6-12
LIVE VIDEO INSTRUCTION · CURBSIDE SUPPLY PICKUP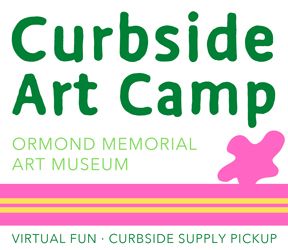 The ever-popular Museum summer camp will be back starting June 8th with a new format!
It's time for our kids to have fun and get creative - but safely. Our wonderfully creative professional art educators have lined up some unique projects, collected all of the needed supplies and will be live streaming during Summer Camp Curbside! 
Camp will run from 10 - 11:15 a.m. Monday through Friday, and there will be plenty of interaction and the ability to ask questions. Since camp is be online, there is even an option for kids out of town to take part. The registration deadline is a little earlier for out of town campers because we will need to mail the supplies.
Parents/guardians simply register in advance online for the camps of their choice. Then the Thursday before camp starts, there will be an online meet and greet with the teachers and a time to test the technology. The next day, Friday before camp, simply swing by and pick up a special package of supplies needed for the next week's camp.
Because of the special circumstances this year, we are offering our Curbside Summer Camp for $65 for the week, and that member price is available to everyone. So, be sure to register and get the kids looking forward to summer camp 2020 - Curbside edition! Thanks to our generous donors, scholarship help is available. Contact Susan Richmond (srichmond@ormondartmuseum.org) for additional details.