Contour Drawing VIRTUAL Workshop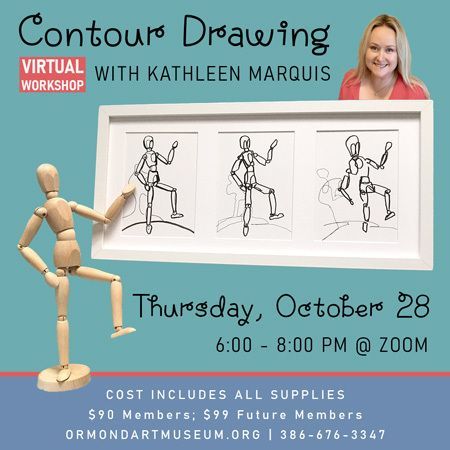 About the Class:
In this class, students will explore the beauty of contour line drawing, and create three drawings to be displayed in a frame, ready to hang after the workshop. Students will be instructed on how to do a variety of contour drawings based on a wooden artist figure. Each contour drawing technique will first be demonstrated, followed by an allotted time period in which students will replicate the technique within their own drawings. The series of contour drawings will include a general contour line drawing, a continuous contour line drawing, and a blind contour line drawing. The first of which will be created via image tracing; the second and third will be drawn from life (each participant will receive their own wooden artist figure for reference). The three drawings produced will be hang-ready by the end of the workshop for display in the included frame.
important details
♦ LEVEL: Beginner-Intermediate
♦ DATE: Thursday, October 28, 2021
♦ TIME: 6:00-8:00pm
♦ LOCATION: Zoom (a link will be emailed)
♦ REGISTRATION DEADLINE: October 18
♦ COST: $90 members; $99 future members
♦ SUPPLY PICKUP: October 26-27 at OMAM's Emmons Cottage
A supply kit is included in the price of this workshop and will contain the following:
◉ Frame for three contour drawings
◉ Wooden artist figure
◉ Mixed-media sketch book
◉ Set of artist pens
◉ Artist tape
◉ Red ballpoint pen
◉ Prints for tracing
◉ Graphite Carbon Transfer Paper
About the Instructor:
An encaustic painter by practice, Kathleen is passionate about art and uses her enthusiasm for art to inspire and guide students in their own works. In teaching art, she hopes to add a little happiness into the lives of those who she comes in contact with (whether be it in person or online). Kathleen received a Bachelor of Fine Arts degree in mixed media with a minor in art history from Florida International University in Miami, Florida, and a Master of Fine Arts degree in painting and drawing from Pratt Institute in Brooklyn, New York. She currently lives and works in Ormond Beach, Florida, and has been teaching art and design for several years now.