Halloween, Haunted Writing Workshop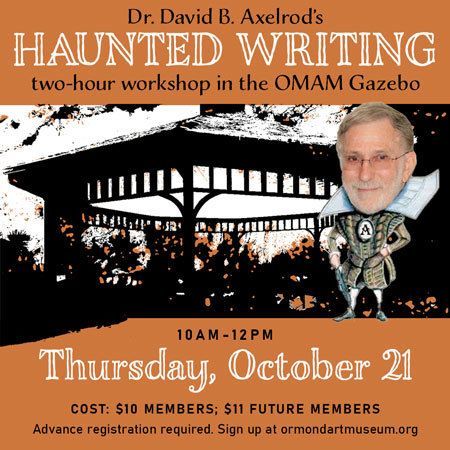 Don't be spooked by poetry! Create your own haunted writing at this event.
People recall and view Halloween fondly as a sugar binge. Others associate the holiday with ESP, psychic occurrences, or All Souls Day. The holiday is a natural source of spirited writing. Join author Dr. David B. Axelrod for this holiday-themed writing workshop. Get a writing lesson and then read your spontaneous writing to the group, or perhaps revise it for humor, something heart-rending or truly horrifying.
Please bring a notebook and something to write with/write on (there are no tables). Bench seating will be provided, but you are welcome to bring a folding chair if you'd like. This workshop will take place in OMAM's Garden Gazebo. Please note the nearest public restroom is located at The Casements (one block away).
important details
♦ DATE: Thursday, October 21, 2021
♦ TIME: 10:00am - 12:00pm
♦ LOCATION: OMAM's Garden Gazebo
♦ COST: $10 members; $11 future members
♦ REGISTRATION: Sign up in advance or drop in and pay at event!
About the Instructor:
Dr. David B. Axelrod, of The Creative Happiness Institute, has written and sold jokes to magazines, published a humor magazine, worked on the set of the TV show Cheers, performed and emceed at numerous comedy clubs. Author of books like The Man Who Fell in Love with a Chicken, his career as a performance poet was built around making poetry entertaining for the mass public. Dr. Axelrod has also sold memoirs, stories and satire, and won both a playwriting award and a Gilman Fellowship in theater at The Johns Hopkins University. As an actor, he was Mr. Smith in Ionesco's The Bald Soprano, and Thisbe in Shakespeare's Midsummer Night's Dream.