First Saturday Ormond Art Walk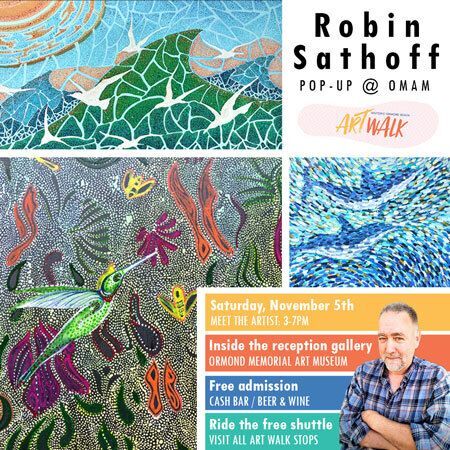 A special collection of work by Robin Sathoff will be on display (and for sale) inside our reception gallery. Please be sure to stop by and visit Robin during the Ormond Art Walk (3-7pm Saturday, Nov. 5th). Admission is free, and we'll have a cash bar to purchase beer and wine!
Artist Statement
"Since childhood, I have always enjoyed drawing and would spend hours off on my own creating. I had several years in school, studying other things, which afforded me the time to hone my skills with a ballpoint pen while taking notes. Later on, I discovered the joy of painting and my work exploded into color. I paint with acrylic on canvas and tend to use very vibrant colors, flowing lines, dots, and shapes. My intent is to produce high energy works that play with the eye and bring life to the wall. I am self-taught and draw heavily from nature and creation. When starting a piece, I often don't have a concrete end in mind. This allows the work to evolve organically, building on itself. When a piece is really working for me, it feels like I'm just flowing along with the pen or brush to see what emerges. This process can make me feel more like a middleman than an artist. Either way I just want to make something beautiful." — Robin Sathoff
---
FREE EVENT & SHUTTLE
No need to drive or walk it all - you can catch the shuttle at any gallery!
Ormond Art Walk Stops
★ Ormond Memorial Art Museum: 78 E. Granada Blvd.
★ Ocean Art Gallery: 197 E. Granada Blvd.
★ NautiPets: 159 E. Granada Blvd.
★ Frame of Mind: 23 W. Granada Blvd.
★ Art Spotlight: 67 W. Granada Blvd.
★ The Studio by Artist Angel Lowden: 150 Tomoka Ave.
Also visit our friends at
★ Gold Leaf Coffee Co.: 17 W. Granada Blvd.
★ Pumphouse BBQ & Smokehouse : 124 W. Granada Blvd.
★ Neighborhood Scoop : 100 W. Granada Blvd.