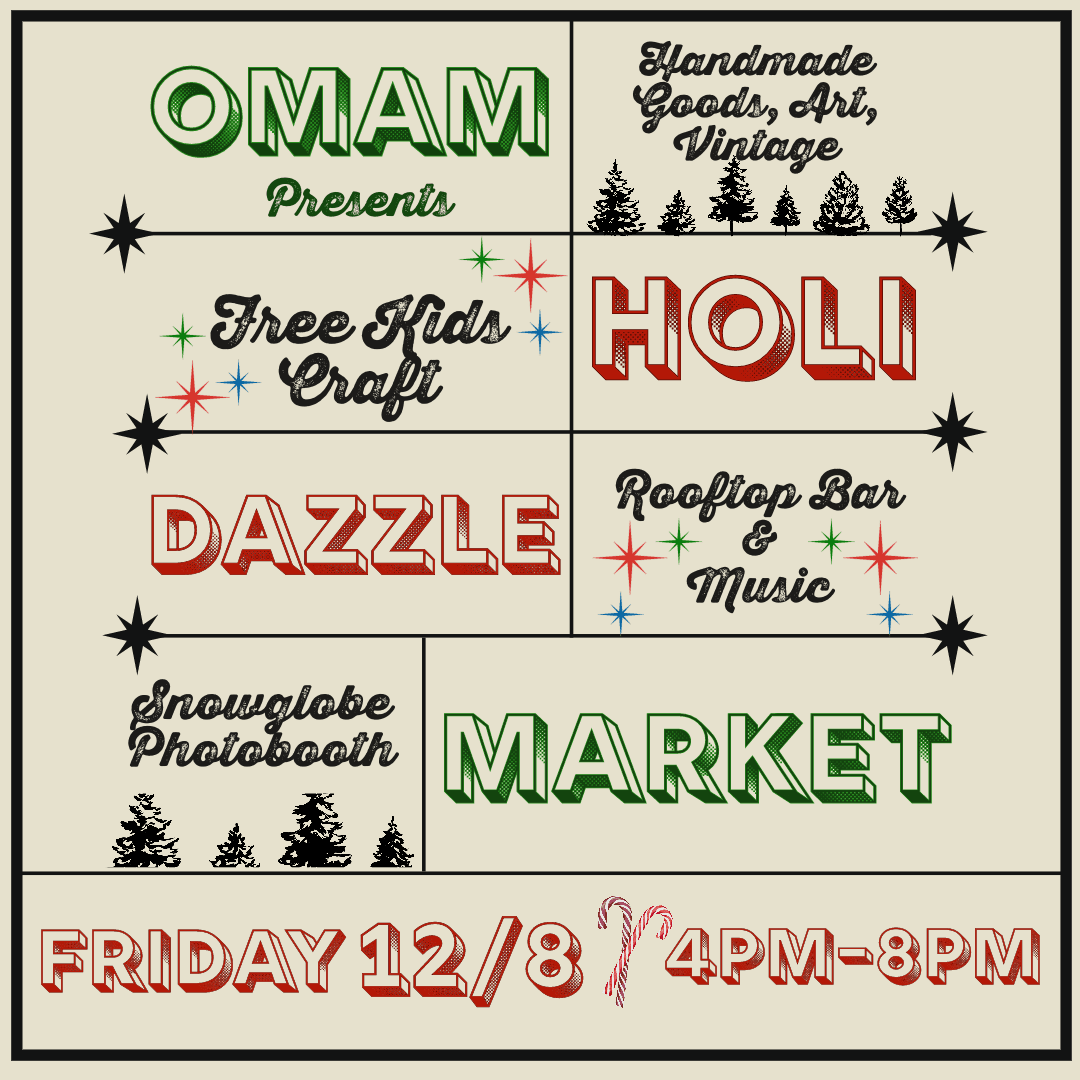 Come and be dazzled by a unique shopping experience as we celebrate the holiday season! Shop for gifts and treasures from local artists, crafters, makers, and vendors. Treat the kids to a fun project in the OMAM Classroom. Enjoy beverages on our beautiful Rooftop Terrace, where the sunset view is dazzling!
PARTICIPATING ARTISTS/CRAFTERS/VENDORS:
Lisa Argentieri- Jewlery Artists
Debbie Donnelly, artist
Joseph Huynh, artist
JT Maui Designs
Kylies Face Paint & Henna Tattoos
LaniPots Plants
Mango Leaf Trading- Custom Engraved Products
Nada Manley-Style Mentor, Personal Stylist, Fashion & Beauty Writer
Ocean Tresure's Jewelry
Poodle Paws & Co
Robert Provan, author, children's books
Seaside Sista Soap Company
Lawerence Shelton Photographer
Carrie Wilken, artist
Wintzel World, artist/illustrator/jewelry
OMAM CLASSROOM (aka FUNROOM!):
Our own Linda King will guide the kiddos through a choice of 3 different, super fun art projects!
ROOFTOP TERRACE:
Music with Morgan Mcmanus (5-6 pm)
Wine sampling with S.R. Perrott (4-6 pm)
A Wine Bottle Gift will be available for $30 (choice of a Villa Andretti Wine with a gift bag).
Special cocktails include a Yaupon Tea Whiskey Hot Toddy, Hot Spiked Apple Cider, and Eggnog Vanilla Russian
OMAM MEMBERSHIP SPECIAL:
Purchase a membership during our HOLIDAZZLE MARKET and spin our Prize Wheel to see what you've won!
An OMAM Membership makes a dazzling gift for someone special or for yourself! Enjoy some great benefits like discounts on classes and workshops and access to hundreds of museums and gardens around the U.S. It's the gift that keeps on giving!