Yoga & Crystal Bowls on the Rooftop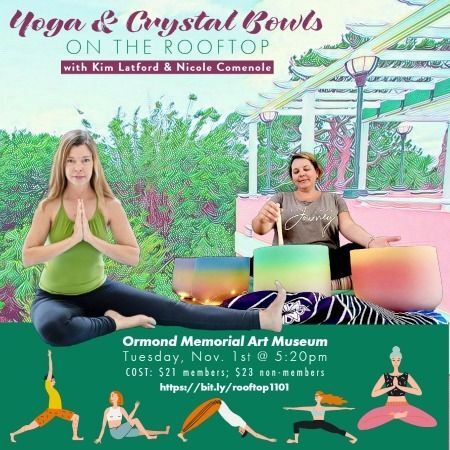 Invite peace, patience, and emotional prosperity into your life during our gentle yoga session with live music on the beautiful OMAM Rooftop Terrace.
Instructor Kim Latford will guide you through stretches and releases as Nicole Comenole accompanies on the crystal bowls. This program doesn't require yoga experience, and was designed for ages 16 and older. Mat space will be provided; please bring your own yoga mat. For those practicing chair yoga, seats will be provided.
Cost: $21 members / $23 future members
About Kim Latford
Kim has been teaching yoga in Ormond Beach and the surrounding areas for 20 years. She favors a gentle, inclusive style, and loves working with beginners best of all. Check her out at ormondyoga.com
About Nicole Comenole
Nicole is trained in the healing hertz of crystal sound bowls. The Ormond Beach area native founded Align Inside when she discovered a need to balance inner energies. Learn more about Nicole at aligninside.com