First Saturday Ormond Art Walk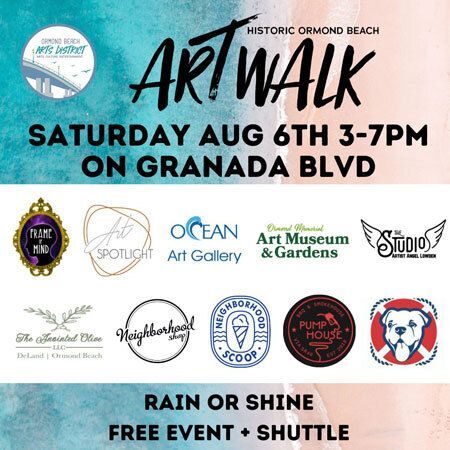 When you make your stop at OMAM, be sure to snap your #hotbirdsummer selfie with Gertrude. She's one of 44 pieces of fiber art in our "Stitched, Stamped & Sculpted" summer exhibit. We'll also have the roof open for tours (3-7p).
FREE EVENT & SHUTTLE!
8/6 ORMOND ART WALK STOPS:
★ Frame of Mind (23 West Granada Blvd)
★ Art Spotlight (67 West Granada Blvd)
★ Ocean Art Gallery (197 East Granada Blvd)
★ Ormond Memorial Art Museum & Gardens (78 East Granada Blvd)
★ The Studio by Artist Angel Lowden (150 Tomoka Ave)
★ The Anointed Olive (203 East Granada Blvd)
★ Neighborhood Shop Ormond Beach (128 West Granada Blvd)
★ Neighborhood Scoop (100 West Granada Blvd)
★ Pumphouse BBQ and Smokehouse (124 West Granada Blvd)
★ NautiPets Ormond-Beach (159 East Granada Blvd)