Felted Vessels with Liz Canali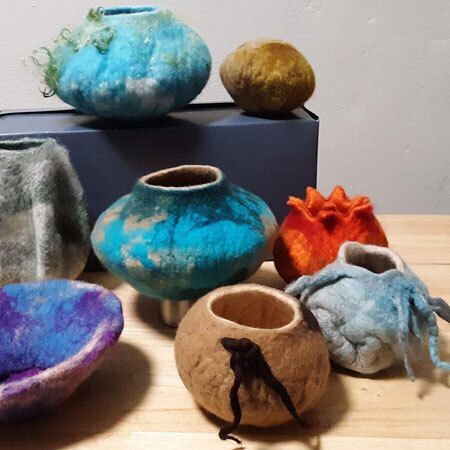 Using a circular template, students will work with the seamless, flat resist method. Experiment with materials, color and shape while completing one or two small vessels. We'll also talk about surface embellishment, using the resist method for bags, pillows, lights, and more.
This five-hour workshop is beginner friendly. Please bring a lunch or a snack; a fridge is available in the classroom.
Participants are asked to bring two old towels, a quart container, a small kitchen sponge, a pair of small sharp scissors, and a plastic bag for carrying wet towels home.
TUITION: $150 Museum Members / $167 Future Members
About the Instructor:
Liz Canali is a fiber artist working with handmade felt. She has a background in art administration and teaching. She teaches classes and workshops in both wet felting and needle felting. Her felt work has been displayed and sold in galleries throughout New England and Florida. Liz has been featured in Western Massachusetts Chapter of the American Institute of Architects, Felt Australia and the Orlando Sentinel.