Seurat, Signac, Color Theory & Pointillism VIRTUAL Class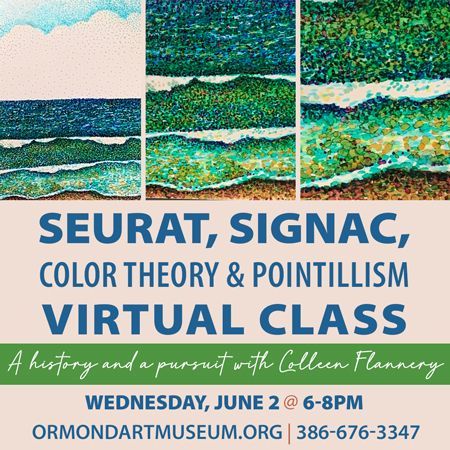 A history and a pursuit with Colleen Flannery
If we consider the attempt by Seurat, Signac, Pizarro and others to make paint as luminous as possible, by placing dots of color next to each other for the viewers eye to blend, we will of course think of their chosen medium, oil paint. But if we consider the luminosity of the materials we have today, alcohol markers come to mind.
Please join artist Colleen Flannery in considering the past and pursuing the future, and learn to use these modern tools in a neo-impressionistic way. The class will spend some time discussing color theory and the history of the artists who created chromoluminarism, divisionism, and pointillism. Then students will try their hand at using alcohol markers to create a pointillist piece of art. Students who also wish to use acrylic paint are invited to bring those supplies to class. Students are responsible for all supplies; please see list below.
Expand your knowledge, curiosity, and skill in this enriching two-hour virtual workshop. Please note the last half hour will be devoted to developing our artwork together. So, if you need to leave a little early that's ok, you'll have what you need to continue your drawings on your own.
COST: $50 (museum members) / $55 (future members)
SUPPLIES: Students responsible for supplies (please refer to the list below)
REGISTER: Sign up by June 1. Open to ages 16 and older. Click HERE or call 386-676-3347
Student's Supply List
ALCOHOL MARKERS SET:
(Colleen's Recommendations)
Ohuhu Double Tipped Chisel & Fine Alcohol Markers (A variety of set sizes are available on Amazon. They are a nice quality for a rather affordable price.)
Coptic Markers(These have the best reputation but are more expensive. I have never used this brand)
Prismacolor Markers (These are high quality markers.)
PAPER:
Colleen's Recommendations
Blank White Cards & Envelopes - Ohuhu 100 Pack, 5 x 7 Heavyweight Folded Cardstock and A7 Envelopes (I really like to use these cards because of their glossy surface on one side and toothy surface on the other. When I'm using them for practice I like writing notes inside them and, I like having cards I can draw and send to my friends. They are available on Amazon.)
If you just want a type of paper - Bienfang Graphics 360 100% rag translucent marker paper OR Borden & Riley #90 Sheer Trace (A fine quality tracing vellum)

OPTIONAL:
Rubbing Alcohol 90% or higher & Q-tips (We may not need these but they do lift color if you should need it).
Acrylic paints, tools, and canvas are also optional. If you'd like to use acrylics, have a set of colors handy, a towel (to wipe your brush on) and some water.
ABOUT THE INSTRUCTOR
Colleen Flannery Caceres is an artist, mother and teacher. She has taught art to young and old, in person and virtually. She studied illustration in college, worked as a studio artist professionally for 9 years, and has worked as a freelance artist for 30 years. Colleen has also studied early childhood education and high school art and has worked in EC programs. She is currently homeschooling her 2 kids and creates and teaches in many media. 2D and 3D, small and large, you name it, let's do it!!