Intermediate Resin Ocean Cutting Board Virtual Workshop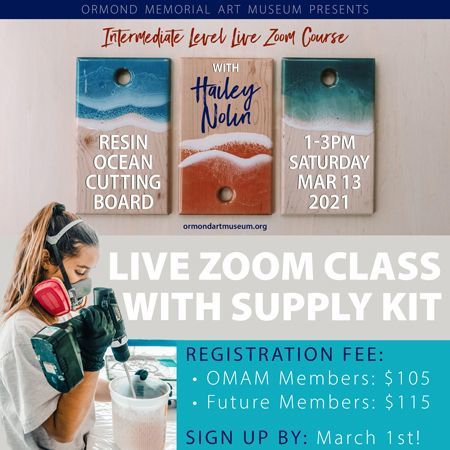 Hailey Nolin's intermediate level resin art course was designed for you to branch out and discover your own style of wave making and color mixing while using epoxy. Hailey will explain what sort of creative liberties you can take while using resin and still keep the integrity of the ocean waves intact. You will create a cutting board after watching Hailey demonstrate. This course is perfect for those who already know how to create a resin ocean but want to learn what ways they can make theirs look different and stand out.
In this course, you will receive a live resin lesson from Hailey Nolin via Zoom where you will create a 10" x 6" resin ocean cutting board, participate in a live Q+A session, receive a complete resin ocean supply kit in the mail, and have some extra resin left over to play with after!
This will all be 100% from the comfort of your own home through your computers, but hands on thanks to the kit we will ship to your door! We are so excited to bring this workshop to you safely!
SUPPLIES IN YOUR KIT
MAS Epoxies resin & hardener (16oz each)
MIXOL blue & white pigments
Design Industries 10" x 6" cutting board
stirring sticks x 6
mixing measurement cups x 5
pair of gloves
Items NOT included in the kit but will need to be provided by the student for the class (all of which can be found at your local hardware store):
Plastic covering for table protection
Box Cutter
Alternate acrylic paint colors
Heat gun
Butane torch
3M Blue painters tape
Resin Artist Hailey Nolin will be your instructor and has taught 15+ resin workshops within the last 2 years. Hailey's been working with resin for the past 3 years and has even successfully created beautiful resin ocean paintings that are 7ft long as well as rideable surfboards! She is enthusiastic about the fluid medium and cannot wait to share her tips and tricks with you and answer any and all questions you may have along the way throughout this intermediate course.
WORKSHOP COST:
OMAM Members: $105
Non-Members: $115
Registration deadline is March 1st. This class is open to residents of the contiguous United States and Mexico. Shipping to Hawaii and Alaska is not available.
Please call 386-676-3347 or email
kheron@ormondartmuseum.org
with any questions!