Ocean Resin Ornament Live Zoom Workshop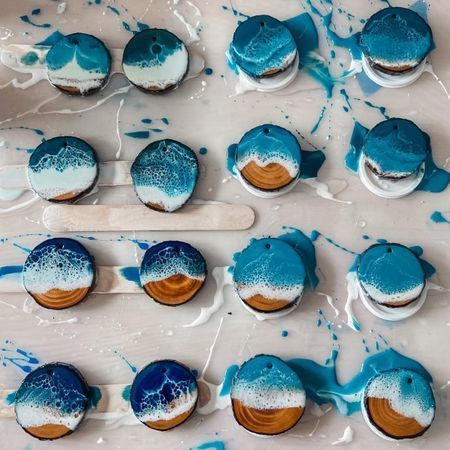 In this course, you will receive a live resin lesson from Hailey Nolin via Zoom where you will create a two ocean resin holiday ornaments, participate in a live Q+A session, receive a complete ocean wave ornament supply kit in the mail, and, as a bonus, you'll have some extra resin left over to play with after!
This will all be 100% from the comfort of your own home. We are so excited to bring this workshop to you safely!
SUPPLIES IN YOUR KIT
MAS expoxy resin & hardener
MIXOL blue & white mini pigments
two-inch wooden ornaments x 2
stirring sticks x 6
mixing measurement cups x 5
pair of gloves
Items NOT included in the kit but will need to be provided by the student for the class (all of which can be found at your local hardware store):
Plastic covering for table protection
Heat gun
Butane torch
3M Blue painters tape
Resin Artist Hailey Nolin will be your instructor and has taught 8+ resin workshops within the last year. Hailey's been working with resin for the past 3 years and has even successfully created beautiful resin ocean paintings that are 7ft long! She is enthusiastic about the fluid medium and cannot wait to share her tips and tricks with you and answer any and all questions you may have along the way.
WORKSHOP COST:
OMAM Members: $75
Non-Members: $85
Registration deadline is Nov. 25th. This class is open to residents of the U.S. and Mexico.
Please call 386-676-3347 or email
kheron@ormondartmuseum.org
with any questions!