Free VIRTUAL Art of Healing Workshop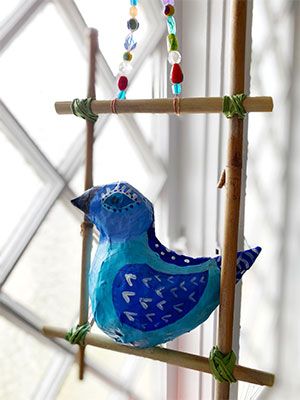 Please join us for a FREE, VIRTUAL Art of Healing Workshop. Free supply pickup is available for the first 20 participants to register!
1. Register for the Virtual Workshop
2. Pickup your free supply kit at the museum August 8-11th, between Noon-3:30pm
3. Watch the online tutorial to complete your project (video posted in the morning on 8/13, a link will be emailed to you)
4. Join the Live Zoom Social on Thursday, August 13th, from 2:30-3pm to talk with the class, show us your project in progress, and get any help you need (a link will be emailed to you)
Workshop description:
Create a Bluebird of Happiness during this artful workshop. Use bamboo from the museum gardens, paper mache, wire and beads to create a beautiful hanging decoration to brighten your home. No art experience is needed, and most supplies are provided. Art project led by Kristin Heron.
Supplies you'll need to gather at home or borrow from a friend (not included in supply kit):
Glue gun
Paintbrush
Scissors
Masking tape