IMAGINATION
Larger Than Life!
June 8 - August 13, 2023
The art of storytelling as told by Jeffrey Kennedy (mixed media sculptures), Mary Wentzel (ink and watercolor illustrations), and MicheLee Puppets (works from three productions).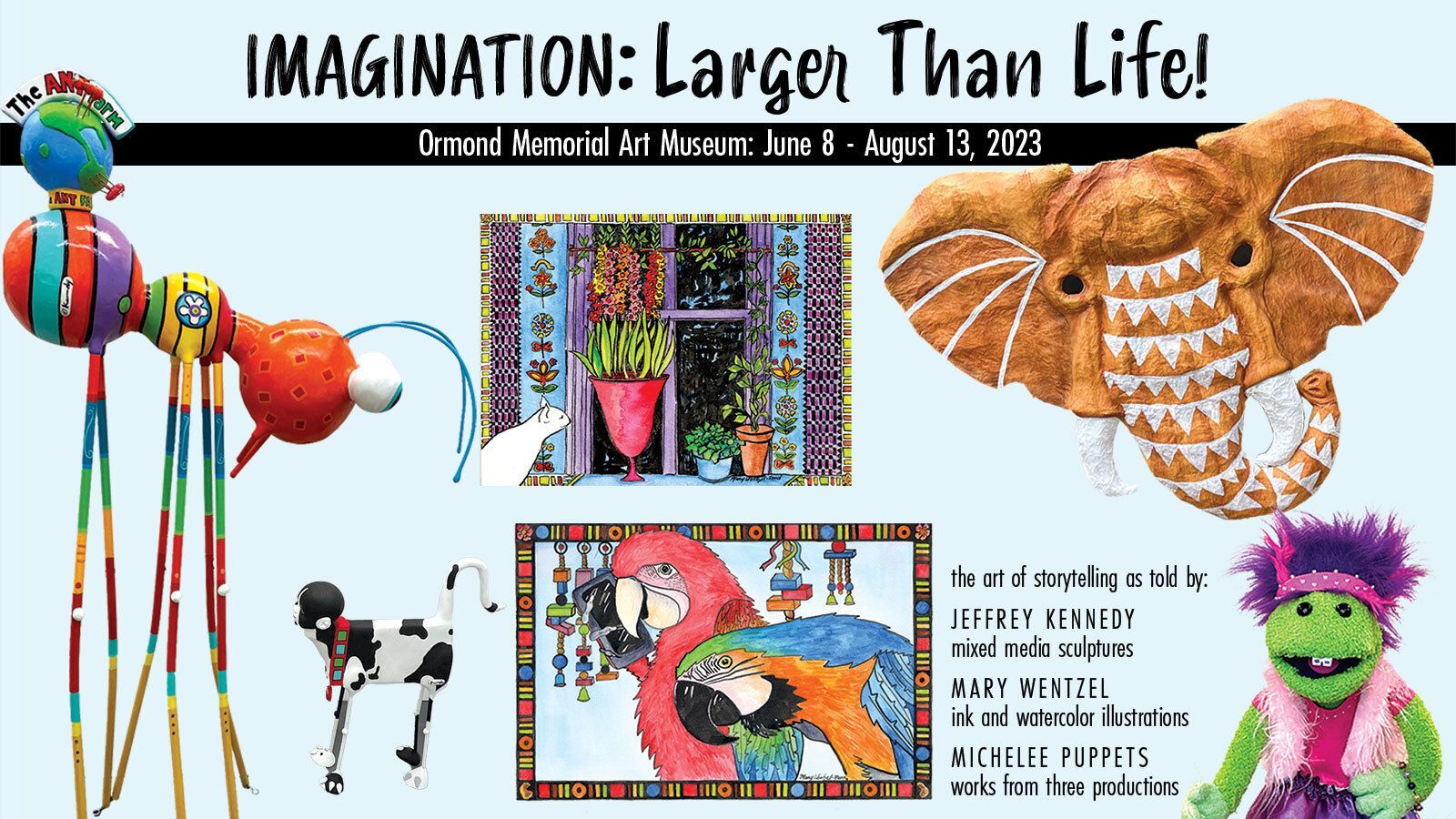 ARTWORK CREDITS: Curious by Jeffrey Kennedy; C is for Cat and M is for Macaw by Mary Wentzel; African Elephant Mask by Nic Parks & Jen Himes for MicheLee Puppets; Arianna by the MicheLee Production Team.
---
About the Artists
---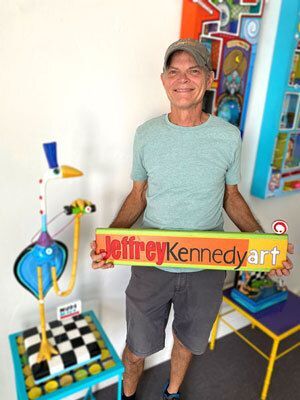 Jeffrey Kennedy is an Ormond Beach artist who is creatively motivated by connecting people through art, in a fun way. As a kid, communicating with others was a big challenge he had to live through. Then he discovered he had an interesting gift. He cherished this gift all the way through childhood, winning high school art awards, getting dates, and landing at one of the country's top art schools. After graduating from Ringling School of Art (many years ago) he set out on a long, winding, and mostly fun journey to explore how to better utilize his gift to improve people's lives. Jeffrey has proudly sold art to the producer of Titanic and the guy who invented the scroll on the mouse for apple. Today he sells his work online, at art festivals, and in museums and galleries.
"Unusual Fun Art is my genre, to classify my visual ideas. My tone is humor, My motto is you are never too old to have fun. My collectors are cool, fun, intelligent people who understand the importance of surrounding themselves with art and supporting the arts... Offering my imagination to the curious mind in a world in need of humor and a joyful conversation is essential." —Jeffrey Kennedy
---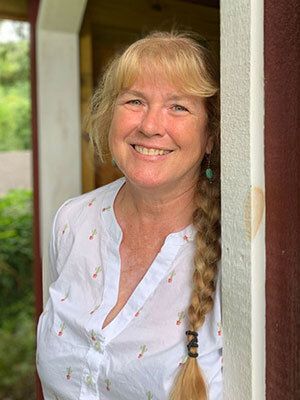 Mary Wentzel is a mixed media painter whose work features bold colors and rhythmic detail. The vibrant flora and fauna of the state of Florida is a favorite theme in her work. She is a graduate of Tyler School of Art in Philadelphia and has enjoyed a long successful career as a museum curator and educator at some of our area's best art, science, and history museums. She has held curatorial positions at the Museum of Arts and Sciences and the Ormond Memorial Art Museum. Her paintings have been exhibited around the state and have won many awards. Mary recently published her second children's book, "Crazy's A to Z for Kids". Her illustrations have been published in books and magazines throughout the country and her work is included in private collections around the world.
---
MicheLee Puppets empowers lives through the art of puppetry. Since 1985, they have provided issue based educational resources using the art of puppetry to empower more than 3 million young people to respect themselves and others, take personal responsibility for their actions, and make positive choices. They strive to set the standard for innovative issue based educational puppetry arts programs nationally and globally.
Tracey Conner is the founder and executive director of MicheLee Puppets, Inc. Conner gained experience in college theatre, summer stock, dinner theatre, children's theatre and puppetry before starting MicheLee Puppets in 1985. Special awards include Central Florida District of Rotary International's Non-Rotarian of the Year and the Marjorie Batchelder McPharlin Award for Excellence in the Field of Educational Puppetry from Puppeteers of America.
Nic Parks has been with MicheLee Puppets for years starting as a performer, then builder, to production manager, and now creative director. His love for movies like Jurassic Park and musical theatre like The Lion King and The Little Shop of Horrors set him on his track to end up in the field of puppetry. The start of this journey began at The Tom Savini Special Effects & Makeup School at Douglas Education Center, where he received an Associate's Degree in Specialized Business. Following through to his Bachelor's Degree in Puppet Arts at the University of Connecticut. Since then, he has built and performed for numerous theatres, commercials, theme parks, companies, and camps.
Denise Lucich worked for 27 years in the garment industry as a designer, merchandiser and pattern maker. She joined MicheLee Puppets in 1996 and has worked as a puppeteer, puppet and costume builder, and in various administrative roles. Denise graduated from Woodbury University in Los Angeles, California with a Bachelor of Science in Fashion Design, and also studied at the American College in Switzerland.
Tracey Conner

Nic Parks

Denise Lucich