Florida Watercolor Society's
Traveling Exhibition
January 13 - February 26, 2023
Nearly forty paintings from the Florida Watercolor Society's 51st Annual Exhibition, including seven award-winners and additional bonus pieces, have traveled to the Ormond Memorial Art Museum!
---
Artist Spotlights
Sandi Hanlon-Breuer

Sandi Hanlon-Breuer

Sandi Hanlon-Breuer is inspired by the natural world and places discovered through travel. Both compel her to try to capture with watercolor the wonder and inspiration of a moment in time. Rather than attempting a literal portrayal, she paints the energy and emotion that first drew her to the subject. She believes transparent watercolor displays a special luminosity that is unique among painting mediums

Sandi Hanlon-Breuer spent her childhood enjoying the beaches on the "Treasure Coast" of Florida and her summers exploring the beautiful countryside of southern Virginia, beginning a life long love of water and nature. After completing a Bachelor of Art in Art at the University of South Florida, she continued her enjoyment of the ocean by working on board the cruise ships of the Oslo, Norway based Royal Viking Cruise Lines for the better part of ten years. Lay-overs in port cities provided the opportunity to visit art museums around the world. The art in museums such as the Uffizi, Musee D'Orsay, Metropolitan Museum of Art and The National Gallery of Victoria continued to stimulate her interest in art. Her fascination for the workings of nature and her curiosity about the bodies of water led her to graduate work at the University of Florida and a career in limnology (fresh water science). Her watercolor paintings continue to reflect her love of the natural world. Most of her artwork is representational and emphasizes both dynamic color and the interplay of light and shadow. She also often stresses patterns and movement in her composition and design. She believes that transparent watercolor displays a special luminosity that cannot be duplicated by other mediums. Sandi Hanlon-Breuer works primarily in transparent watercolor. She has been a full time professional artist for seven years. Her watercolors are included in private collections in the United States, Canada and Europe. She has been recognized with awards in state, national and international exhibitions. She has signature status in American Watercolor Society (AWS), Pennsylvania Watercolor Society, Florida Watercolor Society (FWS) and Watercolor West (WW). Recent venues for her work include juried group exhibitions at The Crary Art Gallery in Warren, Pennsylvania; The Mennello Museum of American Art, Orlando, Florida; The City of Brea Art Gallery, Brea, California; The Wichita Center for the Arts, Wichita, Kansas; The Leepa-Rattner Museum of Art, Tarpon Springs, Florida, The Cornell Museum of Art and American Culture, Delray Beach, Florida; The A. E. Backus Museum, Fort Pierce, Florida; The Salmagundi Club, New York, NY; The Shenzhen Art Museum, Shenzhen, China; Fallbrook Art Center/Signature American Watermedia Exhibition, Fallbrook, California and The National Watercolor Society Gallery, San Pedro, California.

Steve Rogers

Steve Rogers

Steve Rogers is a signature member of the Florida Watercolors Society, American Watercolor Society, and National Watercolor Society. His work has been featured in American Artist Watercolor Magazine, Watercolor Artist, The Art of Watercolor, International Artist, and numerous other books and publications. His paintings have won hundreds of awards in juried competitions, which earned him many Best in Show and First Place recognitions.

"My purpose, as a REPRESENTATIONAL ARTIST is to portray the beauty of light and color in God's world as I experience it within my heart."
---
Exhibit Opening Reception
Friday, Jan. 13, @ 5:00 - 8:00pm
The free reception is open to the public and will include electric cello music by Jonathan Galbraith, light appetizers, and a cash bar.
View this impressive exhibit and meet some of the exhibiting artists, including Jerome Chesley and Janet & Steve Rogers. 
---
---
Credits for Featured Artwork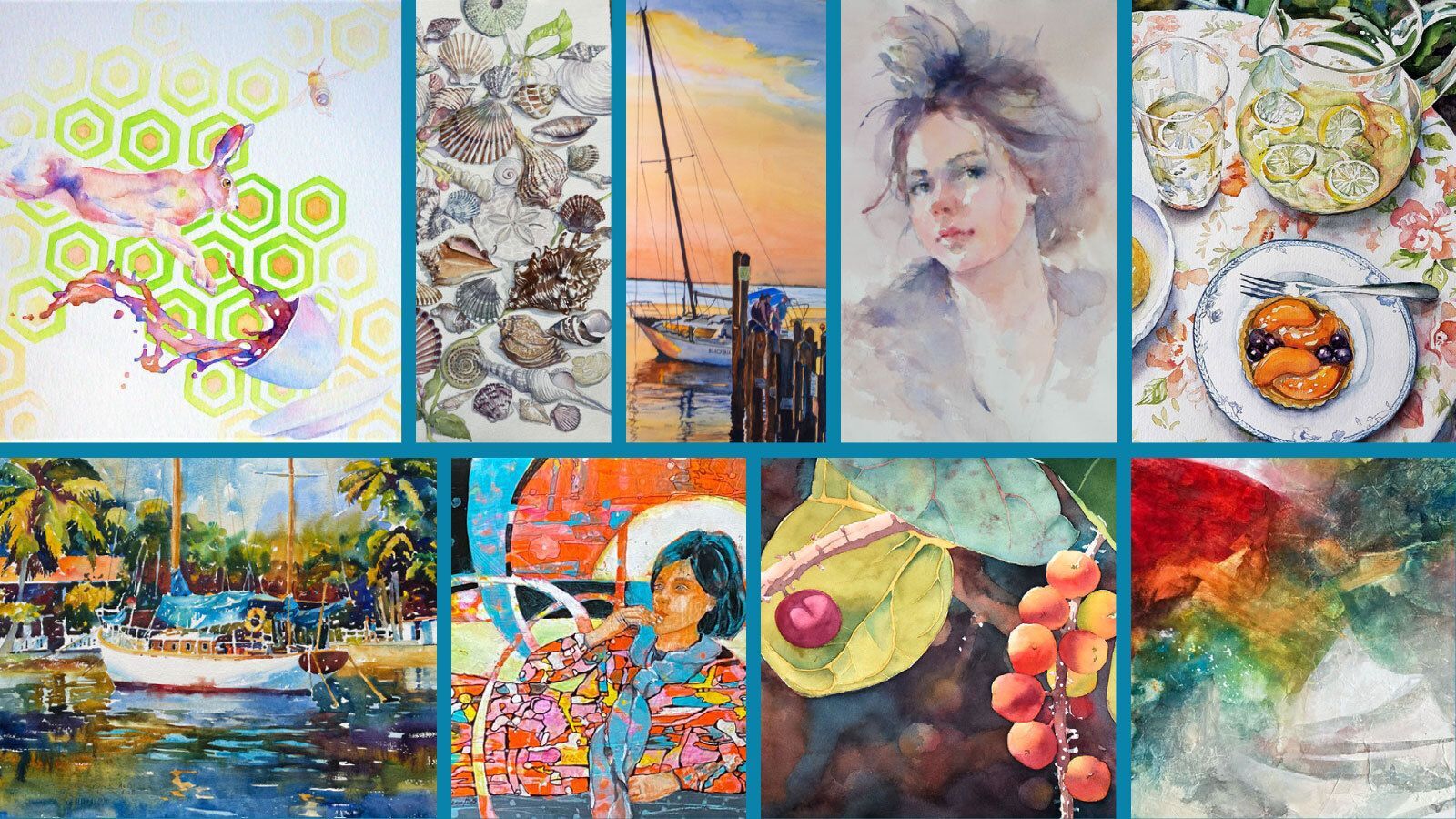 TOP ROW, FROM LEFT: "Mad Hare Day" by Sandi Hanlon-Breuer; "Seashells #2" by Cathy Futral; "Bayside Sunset" by Rita Szopinski;"Black Feathers" by Janet Rogers; "Join Me for Brunch" by Jerome Chesley. BOTTOM ROW, FROM LEFT: "Hurricane Hole" by Steve Rogers; "Time to Focus" by Karen Knutson; "Lone Grapes" by Diane Lary; "Palimpsest ll" by Sue Downes Allen.