Caitlin Flynn: April 26 – May 24, 2022
Pop-Up Window Exhibit @ 9 West Granada Blvd, Ormond Beach
---
Artist Statement
Flynn works with the concept of memory in her studies, often beginning with a specific experience — either her own or inspired by a photograph. Memory is fluid; figures are intentionally kept loose and gestural. She plays with paint. Like memory, it's sometimes lush and vibrant, sometimes thin and dripping away.

 

Her most recent work draws attention to the American Dream: challenging us to define it. Flynn begins her figurative work by writing a word or words hundreds of times on the blank canvas. Recurrent themes are "American Dream" "Question" "Freedom" "Judgement" "Peace". She then paints over the word- so that the initial layer of text is almost invisible- creating a push and pull between the original text and the image shown. Flynn creates paintings that use the personal to access the universal, allowing viewers to drift into an emotive sense of time and space.

 

"To me, art is about losing yourself and tapping into something larger- suspending time in wonder- angst- and hope."

— Caitlin Flynn
Beach Composition in Yellow

"Beach Composition in Yellow" by Caitlin Flynn

48x48, oil, graphite, and textile on canvas

$4,500

Beach Scene I

"Beach Scene I " by Caitlin Flynn

24x36, oil, graphite and textile on canvas

$3,000

The Game

"The Game" by Caitlin Flynn

36x48, oil and graphite on canvas

$3,800

Beach Scene II

"Beach Scene II" by Caitlin Flynn

24x36, oil, graphite and textile on canvas

$3,000

American Dream

"American Dream" by Caitlin Flynn

48x48, oil and textile on canvas

$4,500
CLICK THUMBNAILS ABOVE TO VIEW A LARGER IMAGE AND PRICING INFO
---
ABOUT the ARTIST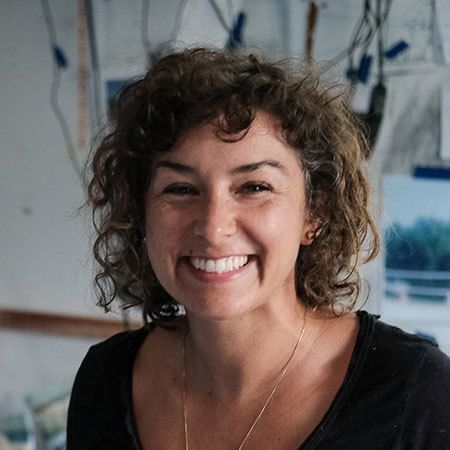 Caitlin Flynn received her BFA from the University of New Hampshire. While attending UNH she sold and exhibited throughout New Hampshire. After living and exhibiting in Santiago, Chile, Flynn moved to NYC and earned her Master's degree from Pratt Institute. She lived and exhibited in NYC for 6 years before moving to Neptune Beach, FL. Flynn currently exhibits and sells her work internationally.
Flynn gathers inspiration from Abstract Expressionism, Romare Beardon, Wolf Kahan, and the Bay Area Figurative Movement.
"Flynn offered emotive abstract ocean scenes reminiscent of Richard Diebenkorn, as well as moody expressionist figures. She imbues all her work, figurative and abstract, with a gracefulness and painterly sensitivity." — The Huffington Post
Her work can be seen locally at Steller's Gallery in Jacksonville, FL or by private appointment in her Atlantic Beach gallery space.
GALLERIES:
2018 - present Steller's Gallery, Jacksonville, FL
2018 - present Woman Made Gallery, Chicago, IL
EXHIBITIONS:
January 2022, Solo Show, Adele Grage
February 2022, Beaches Fine Art Series
May 2021 Water V, James May Gallery, Algoma, WI
Apri 2021, Group Mural Project, Enlighten Art Festival live painting in Mayport, FL Art Repulic
August 2020, Haskell Art Gallery, Group Show, Jacksonville, FL
August 2020, Artworkers United, www.artworkersunited.art Group Show, Jacksonville, FL
September 2020, Women of the World, Group Show, New York, NY
October 2020, Group Show I curated, Artworkers United, University of North Florida, FL
July-September 2020, Group Show, Haskell Art Gallery Jacksonville International Airport, Fl
March 2020, Solo Exhibition, Adele Grage Gallery Space, Atlantic Beach, FL
January-March 2020, *Awarded Juried Art Show Cultural Center of Ponte Vedra, FL
September 2018, Vandroff Gallery, Solo Exhibition, Jacksonville, FL
September 2018, Rise: Group Show, Writing for a Cause, Jacksonville, FL
January 2018, Karpeles Manuscript Museum, 1st Amendment: Group Show, Jacksonville, FL
March 2017, Karpeles Manuscript Museum, Humanity: Group Show, Jacksonville, FL
July 2016, Gallery 725, Deck the Chairs Fundraiser Group Show, Atlantic Beach, FL
December 2016, Gallery 725, Private Showing and Demonstration with Wells Fargo Patrons, Atlantic Beach, FL
December 2015, Gallery 725, Earth: Group Show, Atlantic Beach, FL
November 2013, Gallery 725, Group Show, Atlantic Beach, FL
March 2011, Pratt Institute, Group Show, Brooklyn, NY
December 2010-January 2011, Lindhart Studios, Solo Show, NY, NY
December 2010-February 2011, Theater for the New City Gallery, Group Show, NY, NY
July 2010, 320 Open Studios, Group Show, NY, NY
February 2010-March 2010, Ave A Restaurant and Gallery, Group Show, NY, NY
December 2009 - January 2010, Kush Café, Solo Show, Brooklyn, NY
December 2009, United Film Festival, Solo Show, New York, NY
2008-2009, Clinton Hill Art Gallery, Solo Show, Brooklyn, NY
2007-2008, Private Funding Event for Film: Manzanas Verdes, Group Show, Santiago, Chile
2005-2006, Monastery Artists Collective, Group Show, Manchester, NH
2002-2004, Waysmeet Art Gallery, Artist in Residence Durham, NH
May 2004, Art in the Park, Honorable Mention: Group Show, Portsmouth, NH
EDUCATION & CERTIFICATION
Master's Art, Pratt Institute, NY 2011
B.F.A. University of New Hampshire, NH 2005
Joined American Pen Woman, Visual Arts, 2016