Words To Live By Video Tutorial
Sponsored in part by AdventHealth, our free Art of Healing outreach is offered to anyone in a medical situation, caregiver, healthcare worker, survivor or person in need of reflective time.
Words To Live By Mixed-Media House
A VIRTUAL ART OF HEALING PROJECT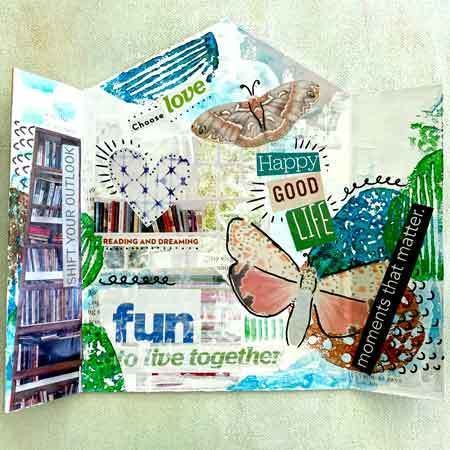 Our homes can be reflections of ourselves, in what we choose to put in them, and how we choose to live. In this Virtual Art of Healing Workshop, create a mixed-media house using words and images that are important to you.
Find inspiration in magazines, and then use mixed media techniques like painting, stamping, and collage, to create an inviting piece of art. No art experience is necessary, and most items needed to complete this project are available in a free supply kit.
This project is good for all skill levels! Watch the video tutorial below to get your step-by-step instructions.
SUPPLIES:
mat board or cardboard cut in the shape of a house*
styrafoam sheets (flat pieces from an egg carton or takeout container will work)*
magazines and/or collage items
white acrylic paint*
colored acrylic paints*
scissors
glue stick
ballpoint pen
black sharpie or marker
paintbrush or palette knife
optional – ink pad
* denotes items in free supply kit
---
Join our Art of Healing Community!
Please email a photo of your completed project and a written reflection (prompts below) inspired by the project to kheron@ormondartmuseum.org.
Do you feel your home and the things in your house are a reflection of you?

Do you feel a different connection to your home after spending more time in it over the last year? Or do you feel the same about your home as you did pre-pandemic?

Please write about any response you have to the art project and the process of creating a mixed-media house. What did you enjoy the most? Were any of these techniques new to you? Did you experiment beyond the video instructions to create any mixed-media techniques of your own?