Harvest Wreath
A VIRTUAL ART OF HEALING PROJECT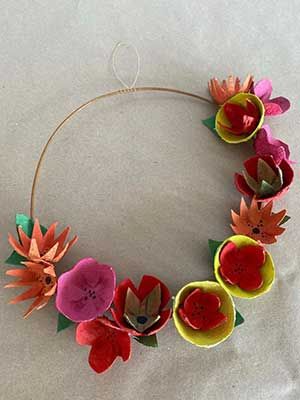 Create a harvest wreath to celebrate the changing season in this virtual workshop led by Kristin Heron.
Appropriate for all artistic skill levels, this project features a meditative component to provide participants the opportunity to focus on the present moment and to set and accomplish an achievable intention. Our Art of Healing program was specifically designed for those dealing with a difficult health issue (caregivers, survivors, etc.) or any person in need of reflective time.
SUPPLIES:
flexible stick, vine or wreath form*
craft wire*
cardboard egg carton*
acrylic paint*
paintbrush
scissors
hot glue gun
cup of water for paintbrush
*Items included in the free supply kit.
The free supply kits (limited to the first 15 registrants) have all been claimed for this project, but the full instructional video will be posted here on Thursday, September 24. Registered participants can pick up their supply kit at the museum between 10:30 a.m. and 3:30 p.m. September 22-23.
Harvest Wreath Video Tutorial
INSTRUCTIONS
Step 1:

Wrap the stick or vine into a wreath (or use a store-bought wreath)

Step 2:

Deconstruct the cardboard egg carton, so that you have individual cells

Step 3:

Trim the edges of each cell to clean it up

Step 4:

Cut the edges of the cells, to transform them into flowers. Use pointy cuts to create sharp petals and/or rounded cuts to create softer petal shapes. Consider cutting flowers to layer inside one another, to create depth. Turn some of the scraps into leaf shapes.

Step 5:

Paint the flowers and leaves on both sides. Let dry

Step 6:

After the first layer has dried, add details to the flowers with more paint. Let dry.

Step 7:

Use hot glue to attach the flowers to the wreath form.

Step 8:

Twist the wire onto the top of the wreath to create a hanger.
MAKERS GALLERY