Watercolor Watermelon
It's summer and also #WorldWatercolorMonth, so what better way to #CreateInPlace right now than to make this cool watercolor watermelon painting!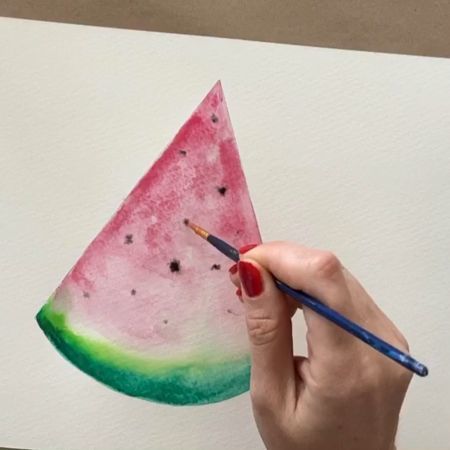 SUPPLIES
watercolor paints (pink, dark green, light green, black)

watercolor paper

paintbrushes

cup of water

palette

pencil

ruler
STEPS
Use a pencil and a ruler to draw a watermelon wedge
Fill in the top of the wedge with pink watercolor
Use a paintbrush with clean water to blend the paint
Vary the thickness of paint and make some areas darker than others
Use dark green watercolor to paint the rind.
Leave a white space between the green and pink.
Paint a lighter green above the dark green, and let the two mix.
Use a paintbrush loaded with fresh water to lightly blend the light green and pink.
Use a small brush to lightly dab on the seeds.
Let dry. (afterward, you can darken the seeds by adding another light dab of black paint).