Rangoli
Rangoli is an art form that began in India. Colored rice is formed into temporary art pieces on the ground usually at celebrations.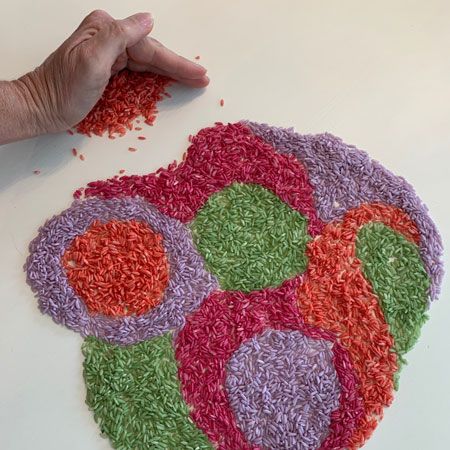 SUPPLIES
Spray paint in several colors
1 cup of uncooked white rice per color
1 large Ziploc bag per color
STEPS
Put 1 cup of rice in a large Ziploc bag.
Go outside and shake the paint can then spray a small amount onto the rice.
Holding the bag closed, shake and move the rice around. Repeat until the rice is covered. Too much paint makes the rice sticky.
Open bag wide and leave painted rice to dry.
Paint other bags of rice and let dry.
After they are dry, you can move them to small bags if you like.
Once all the rice has dried completely, you are ready to create! Find a flat surface. It can be a floor or tabletop.
Put a small amount of rice in the center and begin shaping.
Use the curve of your hand to make shapes.
Start in the center and work your way out.
Add a second color and shape around the first color.
You can widen a color by patting the rice. You can narrow a color by sliding the rice with your fingers.
Try to keep each color side by side without overlapping.
Keep adding shapes until you are happy with your design.
After you try an abstract form, try to create other forms.