Beginning, Beginning Watercolor 5-Class Series with Pam Bleakney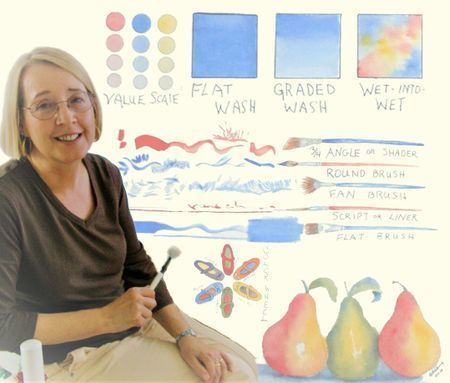 Experience the thrill of the pigment and water coming together in your creation.
Tuesdays, 1/10, 1/17, 1/24, 1/31, 2/7
10:30am-1:00pm
This class series is designed primarily for students with no watercolor experience, but a burning desire to learn the basics. We'll experiment with different brushes, pigments, techniques, learn composition, plus we'll paint simple landscapes, animals and flowers. After five classes with instructor Pam Bleakney, you will know watercolor basics and feel confident beginning your next watercolor class or painting. Open to participants 16 and older.
Watercolor paper, paints, and a palette are included with tuition ($100 museum members; $110 future members).
Students are responsible for some supplies; please see supply list below
.
SUPPLY LIST:
WATERCOLOR BRUSHES: Script, liner or rigger brush, Rounds #'s 2, 4, and 8, ¾ Angle Brush. If you already have brushes bring them to the class. If you can't get brushes, the teacher will have some to share.


FOR DRAWING: Sketch pad, #2 pencil, kneaded eraser, masking tape at least an inch wide.


PAPER TOWELS