Cyanotype Workshop in the OMAM Gardens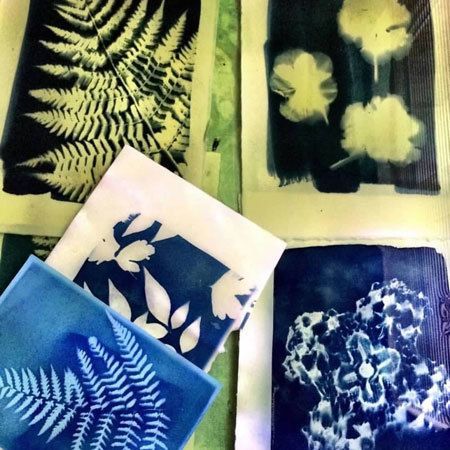 Cyanotype is one of the oldest photographic printing processes; made by treating a surface like paper or cloth and then exposing it to UV light. It produces a beautiful cyan-blue print, and can be used to capture botanical specimens or reproduce drawings, like blueprints.
In this two-day intensive led by artist Catherine Cross Tsintzos, participants will discover the traditional and wet cyanotype methods, as well as photogram and lumen prints. They will also learn about the solutions and products used for capturing images in different colors, and will experiment with printing on different papers, fabrics and non-traditional materials. Composition, overlays, lettering, drawing, digital and vintage negatives, X-rays, plants and fiber materials, light measure, and developing will also be discussed.
All supplies are provided; open to participants 16 & older. Please note this workshop takes place outside in the OMAM Gardens. Bring a picnic lunch and anything else you'll need to be comfortable outdoors. Park in the south parking lot, and meet at the Emmons Cottage.
Important Details
♦ DATES: Wednesday & Thursday, Nov. 17-18, 2021
♦ TIME: 10:30am - 1:30pm
♦ LOCATION: OMAM Gardens (meet at the Emmons Cottage)
♦ COST: $225 museum members; $248 future members
♦ REGISTRATION DEADLINE: November 10th; open to ages 16 and older
About the Instructor:
Catherine Cross Tsintzos an interdisciplinary/multidisciplinary artist with a focus on environmental and social issues, traditional fine craft and sustainability. She has a clear purpose in building and crossing a bridge among the arts with a deep focus and balance between artistic practice, teaching, activism and invitation for participation. Catherine has spent her life's work developing programs and teaching in the arts in the Southeast United States for all ages and abilities. She is a NC artist from Greensboro and spends most of her time in Florida where she has been actively involved with arts education at the Orlando Museum of Art for the past 15 years. Catherine works with arts organizations, museums and universities including Redux Contemporary Arts Center/SC, Orlando Museum of Art/FL, Frederick Book Arts Center, MD, Rollins College/FL, Duke University Continuing Studies/NC, Louise Wells Cameron Art Museum/NC, Greenville Center for Creative Art/SC and the Florence County Museum/SC currently. Her love for the element of surprise and process art have led her to work with mediums that include clay, paper, printmaking, book and fiber arts, alternative photographic processes, natural plant dyes and earth pigments. Through her museum work she has had the privilege to work with many national and international artists and works of art that have continued to scaffold her interest in being a lifelong learner and to keep the creative process fresh and invigorated with her personal art making. Catherine serves on the Board of the Rensing Center.