Colored Pencil Squirrel Two-Day Workshop with Kathi Darby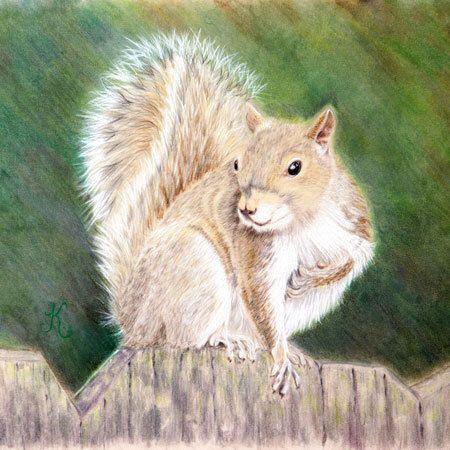 Tuesday 9/27 & Thursday 10/6
In this two-day colored pencil workshop instructed by Kathi Darby, students will learn how to transfer a line drawing to paper, learn how to draw animal eyes, render soft fur, draw wood and incorporate a background.
COST: $66 museum members; $74 future members
Open to beginning students, 16 and older. The teacher will supply a photo and a line drawing to transfer. Students are responsible for all other supplies; please see the supply list below.
SUPPLY LIST:
One sheet (9x12) of white, cream or light toned drawing paper
Transfer paper (or the teacher will have a light box available for students to use)
Tape
Drawing board or smooth surface to draw on
Pencil sharpener
Erasers: Battery eraser recommended, kneaded eraser, Vanish or Factis eraser, Mono zero eraser (round)
Blenders: Cotton swabs, tissues, tortillions, blending stumps, pencil blenders
Prismacolor Premier pencils (you may substitute similar colors or brands): Black, White, Jasmine, Dark umber, Light umber, Chocolate, Burnt ochre, Dark brown, 20% Cool gray, 90% Cool gray, 30% Warm gray, 50% Warm gray, 20% French Gray, 50% French Gray, 70% French Gray, Aquamarine, Green Ochre, Kelly (or True) Green, Spring green, Yellowed chartreuse, Dahlia purple, Violet, Clay rose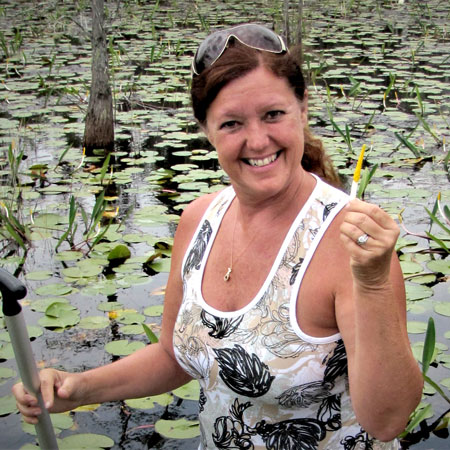 ---
About the Instructor
Kathi Darby loves teaching and looks forward to exploring different styles and techniques with her students. Her teaching credentials include colored pencil classes at the Flagler County Art League, Michaels, and Arts4All Florida, in addition to leading private lessons and workshops. She has a successful pet portrait business, Pets on Paper, and accepts private commissions. Her colored pencil artwork is hanging both in both public and private collections, and has been juried into several prestigious exhibitions. Kathi is a 13-year member of the Colored Pencil Society of America. She has has served on the CPSA St. Augustine Chapter Board of the for the past three years, and is also a member of the St. Augustine Art Association. She has studied with nationally recognized artists and CPSA members, including Barbara Dahlstedt, Gemma Gylling, Denise Howard, Amy Lindenberger, and Bonnie Haney. Kathi has also worked closely with Bill Shoemaker and Hanneke Jevons, and meets with a group of colored pencil artists weekly.
"I have been drawing ever since I could hold a pencil or crayon and love to show the colors of the world in a new light. To me, nature and art are intertwined and I love to capture those special moments that feature the wildly diverse life around us. I am mostly self taught, but have had the privilege of working with very inspirational and talented artists who were very generous in sharing their knowledge and techniques. My work has hung in art museums, private collections, a wide variety of shows and venues and, most importantly. folks have chosen to buy my work and hang it in their own homes. It's humbling and I am very happy to have the chance to give back by allowing others to explore their inner artist. I believe everyone can create their own visions of the things they love and I would love to help on that journey."