Fun with Color: A Quality Time Online Workshop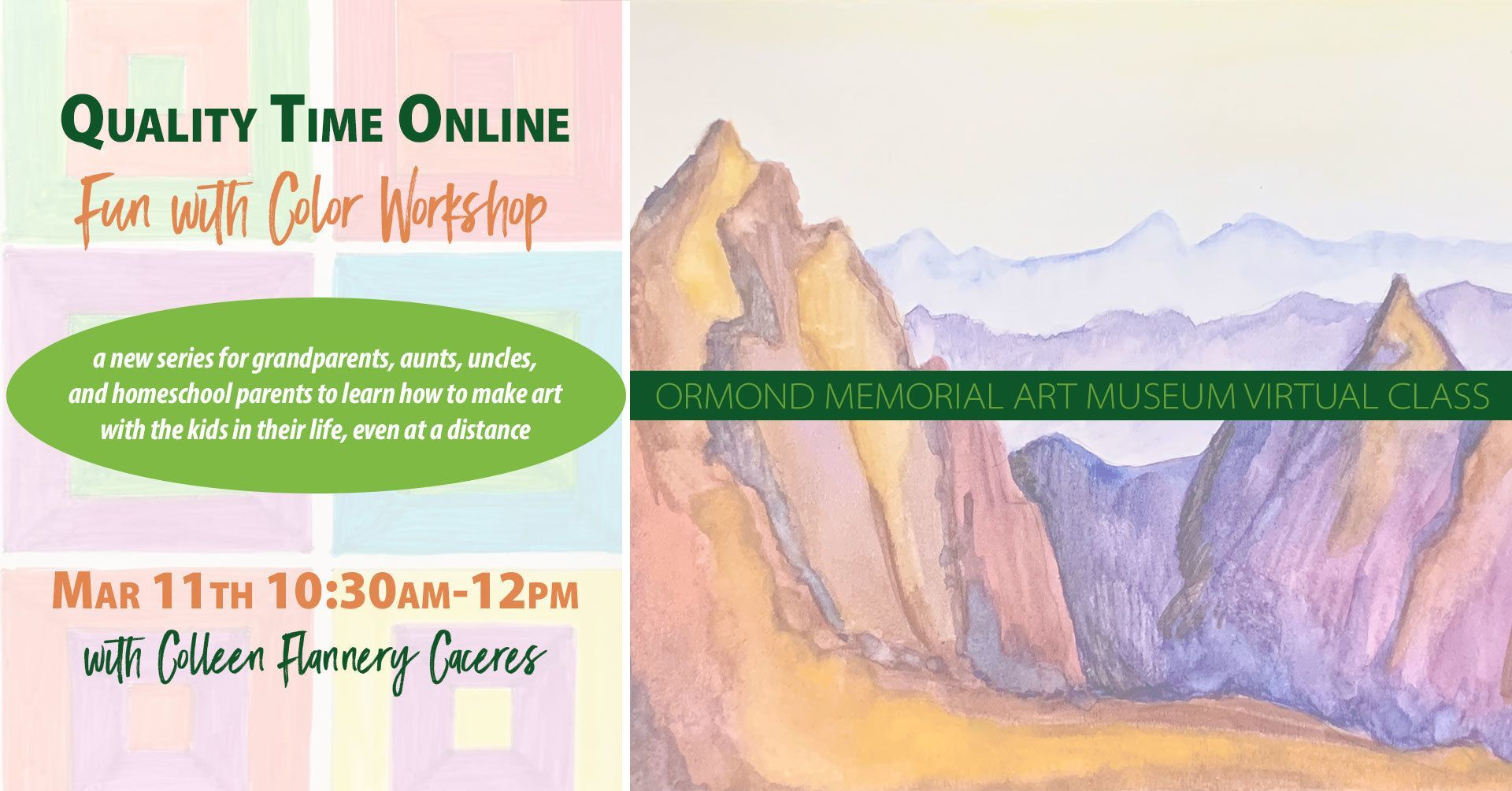 "Quality Time Online" is a series of classes designed for grandparents, aunts, uncles, or parents interested in learning how to connect virtually with the young ones in their life through the basic elements of art.
ABOUT THIS LIVE ZOOM WORKSHOP
In this class, you'll learn how to teach the children in your life the art element of color. We'll learn about how colors work together and will create a color wheel, a color sample, and a basic landscape that you will then be able to teach your family in a way that's fun and interesting to you both.
This work will be formatted in the size of a card so you can mail your artwork and a note to each other. In addition, we will review some famous artwork that uses color for further inspiration. No matter their age and skill level, we'll talk about projects you can create together and how you can connect with them through art at a distance.
COST: $25 (museum members) / $28 (future members). Registration closes March 9th. Click here to register. Participants are responsible for providing their own supplies. Please gather the items listed below for either Option 1 (watercolors) or Option 2 (markers) before class. It's good to practice with the supply option that the kids you're connecting with will be using.
Please gather these items before class:
Supply Option #1
• WATERCOLORS - A set of watercolor paints with a minimum of R,O,Y,G,B,P/V & Brown – Teacher recommendation: any brand will do but Arteza and Windsor & Newton can both be found online at Amazon. I do not recommend the Windsor & Newton Pocket Plus size as it is quite hard to open.
• PAPER - Three blank watercolor cards and/or watercolor paper. Additional piece of white paper, any kind, is handy to test colors on.
• BRUSHES - at least 1 brush, non-frayed. This could be round, any number 2-6 and/or a flat brush 1/4"
• WATER - Two containers for rinse water
• PAPER TOWELS - a few sheets of paper towels or a clean rag to clean your brush
• PALETTE - a white palette for mixing paints- could be a plate, old top of a plastic container, lid that comes on the set of paints, etc.
• TAPE - painters tape or masking tape 1/2 in -1 in is handy to tape your painting down so it doesn't warp
• FLAT SURFACE – You'll need a surface to tape each painting to. A piece of Masonite, clip board, flat piece of plastic, even a piece of cardboard will do. It's best to have three individual pieces instead of one big one.
• PENCIL & RULER
Supply Option #2
• MARKERS - Set of markers, any brand, that aren't dried out.
• PAPER – Three blank cards – the smoother the surface the better. Bristol Board works well with markers. Additional piece of white paper, any kind, is handy to test colors on.
• 91% RUBBING ALCOHOL (if you're using only permanent markers) and a smallish brush or Q-tips to blend with
• SMALL CONTAINER to hold the alcohol – this can be a cleaned bottle cap
• PENCIL & RULER
MORE ABOUT THE SERIES
Value, line, color, shape, form, texture and space are the basic building blocks of art. During each class you'll learn about one of these art elements and create a project that you can then recreate with your grandchild online. Our art will be created on a card which you can then send as an invitation to your loved ones to join you virtually for an art class that you lead. Then, you can make cards together, maybe even add a message and mail them to each other as keepsakes of your time learning together.
Each class covers a different art element, examples of artists who use it and a new creation. We will also be discussing the abilities of and activities suited for different ages, so you can have a fun experience with your grandkids virtually. This class is designed for grandparents, but is well suited for aunts and uncles, and even homeschooling parents! What is designed here to be taught virtually can certainly be shared in person. Look for a new class each month! Sign up for one, or all seven.
ABOUT THE INSTRUCTOR
Colleen Flannery Caceres is an artist, mother and teacher. She has taught art to young and old, in person and virtually. She studied illustration in college, worked as a studio artist professionally for nine years, and has worked as a freelance artist for 30 years. Colleen has also studied early childhood education and high school art. She is currently homeschooling her two kids. She creates and teaches in many media.