Antoinette M. Slick Stairwell Exhibit
Slick Family Stairway to the Stars
October 11 – December 17, 2023
Award-winning artist, Antoinette (Toni) Slick resides in Ormond Beach and is known for her nonobjective, abstract art. Her works can be found in the collection of the Museum of Arts and Sciences, Daytona Beach and in multiple private collections in Florida and Southeast United States.
Artist Statement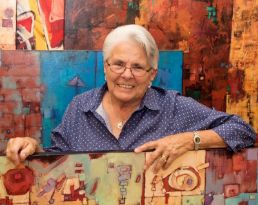 "A painting should first satisfy the artist's need for discovery, emotional involvement, and intellectual stimulation. My fascination with surfaces began several years ago while traveling. As my companions were photographing wonderful scenery, historic buildings or beautiful sunsets, my camera was recording walls, floors, ceilings, and doors — the never-ending surfaces that surround us. These surfaces are affected by everyday happenings, transforming them into objects with emotional content. Some are very old but have a wonderful serenity in their age. Others are more dramatic, perhaps threatening: they are too high, too dark, have no openings in or out. Perhaps there is jagged glass or razor wire across the top. Some are made more beautiful by graffiti or more threatening by gang tags in inappropriate places. Often there are many layers simultaneously covering and uncovering, eroding, and exposing. In short, they embody the history of this particular surface, in this specific place, at this moment in time. A painting should evoke discovery, emotional involvement, and intellectual stimulation. My paintings hint at written messages, but on closer inspection, the letters aren't real letters, the words not real words. Like the surfaces from which they are inspired, the viewer is invited to sense, experience, and interpret."
Opening Celebration:
OMAM's sponsors, premier members, and community partners were invited to a progressive stairwell reception on Tuesday, October 10, which featured small bites at each landing and ended with a rosé sangria toast on the rooftop terrace.