Richlin Burnett-Ryan: June 29 - Aug. 2, 2021
Pop-Up Window Exhibit @ 9 West Granada Blvd, Ormond Beach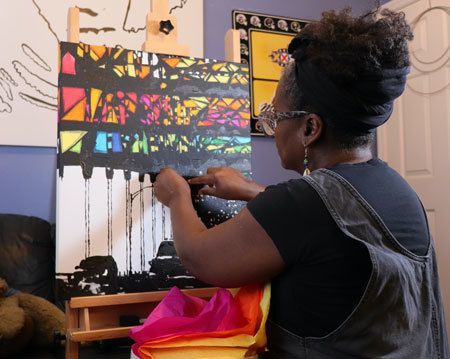 Artist Statement
"My art is an exploration of the materials I'm drawn to use in expressing my creativity. The journey taken is planned with the expectation of new discoveries. The ultimate goal is to push the boundaries and investigate the possibilities of what could be. Discovering new possibilities is my favorite part of creating art; why I enjoy work with mixed media on canvas."

— RICHLIN BURNETT-RYAN
---
ABOUT this COLLECTION
CLICK THUMBNAILS BELOW TO VIEW A LARGER IMAGE AND PRICING INFO
"As the mother of three amazing children I know how integral the ability to feel sympathy and concern for the sufferings of others is. Something this world could use more of today. After seeing children separated from their parents, I wanted to create a series of work focusing on compassion starting with the mother and child imagery. The loving bond between mother and child, cemented before birth and endures long after death."
Child separation is a cruel punishment for the innocent children seeking a safe harbor to shelter from dangerous conditions facing them in their homelands. Ripping babies out of mothers' arms to place in cages or with strangers made me angry. I know what it feels like to be separated from your parents at a young age. Both my mother and father came to America seeking a better life for their family. I was a year and a half when my mother left me and five siblings (ranged in ages six months to five years old) with relatives in Guyana to join my father in America.
This body of work explores the color play of tissue paper with acrylic paints and inks, which allow me to create amazing translucent color interactions and texture. I prefer to use the least toxic material due to over exposure to rubber cement early in my art career. My process begins by removing all color and shade from my photographic reference. By reducing the image to a liner or solid black and white form on the canvas, I create drama with the dominant characteristics of my subject. I then reintroduce color to vacant spaces, sometimes overlapping the form. These abstracted color shapes create volume, shade and texture to the piece organically. I work intuitively mostly with some degree of planning. I intentionally use bold vivid colors because I want my work to be spiritually free and expressive to the viewer. I want the viewer of my work to feel my passion for the subject, and to be transported into the world I create. My goal as an artist is to encourage joy and freedom. Even in my more socially conscious works the use of vivid colors gives the viewer hope. I believe there is an inner spiritual navigator that allows me to trust in the discovery and eventual outcome of my art. Not all is successful, however, the journey is always worth it.
---
ABOUT the ARTIST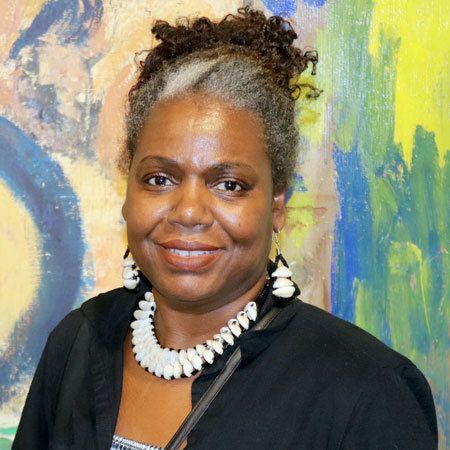 Richlin Burnett-Ryan was born in Georgetown, Guyana in South America. At the age of nine, she came to the United States and settled in Brooklyn, New York. Richlin attended Clara Barton High School and took art classes at the Brooklyn Museum. She also attended Rochester Institute of Technology in Rochester, NY, and The School of Visual Arts in New York City studying graphic design.
In 1991, she married artist Weldon Ryan and started a family. With her husband they started Rich and Well Graphics, Inc. She later she worked as the art director of IDD Magazine for Thompson Financial, NYC. In 2004, she moved to Palm Coast with her family and continued working as a graphic designer. She created Greenup Magazine, Voice Youth Magazine for the Florida Endowment Foundation, and was the creative art director for OVT magazine. Richlin and Weldon Ryan opened Calypso Fine Art Gallery in 2016.
Presently she is a fulltime artist and curates art exhibitions for Bethune-Cookman University Preforming Arts Center and Visual Gallery; and the Yvonne Scarlett-Golden Cultural and Educational Gallery.
EXHIBITIONS:
Gallery Guichard, Chicago, IL 2021 Group Exhibition
Art & History Museum Maitland, FL 2021 Group Exhibition
Alice and William Jenkins Gallery, Orlando, FL 2021 Group Exhibition
Art Fort Lauderdale Fair, Fort Lauderdale, FL  2020 Group Exhibition
The Nelson Mandela Metropolitan Museum of Art 2019 – 2020 Group Exhibition
The RITZ Theater and Museum, Jacksonville, FL 2019 – 2020 Group Exhibition
Reddi - Arts Gallery 1037, Jacksonville, FL 2019 Group Exhibition
Yvonne Scarlett-Golden Cultural and Educational Center Gallery, Daytona Beach, FL 2019 Solo Exhibition
Lightner Museum, St. Augustine, FL 2018 Group Exhibition
The RITZ Theater and Museum, Jacksonville, FL 2018 Group Exhibition
African American Museum of Art, Deland, FL 2018 Solo Exhibition
The Larimer Arts Center Palatka, FL 2018 Group Exhibition
Daytona Beach Art League, Daytona Beach, FL 2017 – 2020 Group Exhibition
Jacksonville Public Library, Jacksonville, FL  2017 Group Exhibition
Calypso Fine Art Gallery, Bunnell , FL 2016 - 2017 Group Exhibition
The RITZ Theater and Museum, Jacksonville, FL 2016 Group Exhibition
SALVO Art Project, Bunnell , FL 2016 Group Exhibition
Clover's Fine Art Gallery, NY 2015 Group Exhibition
Yvonne Scarlett-Golden Cultural and Educational Center Gallery, Daytona Beach, FL 2015 Group Exhibition
Bethune-Cookman University PAC/Visual Arts Gallery, Daytona Beach, FL 2014 Group Exhibition
The Hollingsworth Gallery, Palm Coast, FL 2013 Group Exhibition
The Flagler County Art League, Palm Coast, FL 2013 Group Exhibition
PUBLICATIONS:
Orlando Arts Magazine – Cover January/February 2021
DMI: Design Management Institute Journal - Vol.28, Issue 2-2017
ORGANIZATIONS:
Florida Artist Group
Association of African American Museums
Daytona Beach Art League
Jacksonville Artists Guild 
AWARDS:
Honorable Mention: "Nina Blue" Daytona Beach Art League 2019
Third Place: "Cattleya" Daytona Beach Art League 2019
Honorable Mention: "Nina Red" Daytona Beach Art League 2018
Honorable Mention: "Strong Not Angry" Daytona Beach Art League 2018
Achievement Award: "Soaring Above the Cranes" Daytona Beach Art League 2017
Third Place: "Color Splash" Flagler County Art League 2011
First Place: "Rescue Me" Flagler County Art League 2011
Best in Show: "Dressed to Kill" Flagler County Art League 2010
First Place: "Butterfly" Flagler County Art League 2009