Nancy Baur Dillen: Aug. 3-30, 2021
Pop-Up Window Exhibit @ 9 West Granada Blvd, Ormond Beach
Artist Statement
"Throughout the evolution of my work, I have created magically realistic oil paintings and drawings based on reality and fantasy flipping from one to the other as the spirit hits. My work expresses these flights of fancy in an enchanting way, and reflects my intrigue with color and space within the setting. Merging the real and unreal, the romantic and the dramatic allows me to accept things as they are and to dream and play. The more my work evolves, the more complex it becomes. I compete with myself to find new and challenging solutions to the composition so that reality and fantasy join."

— NANCY BAUR DILLEN
ABOUT the ARTIST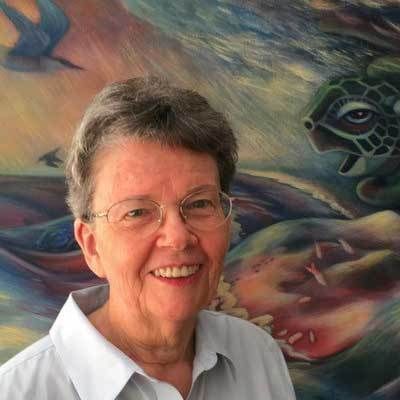 For most of her professional career, Nancy Baur Dillen was a program coordinator and art professor at Eastern Florida State College (EFSC) in Melbourne, FL. She graduated from Florida State University with a MA in Art Education and Constructive Design in 1971. After graduation, she moved to Melbourne, where she became an art instructor at Brevard Community College (BCC), now EFSC. With an excellent background in art, she had a head start toward establishing myself in the community. As an educator, Nancy had an opportunity to work with and influence the art programs on all levels. While at the college, she expanded the art program and taught a variety of courses that included drawing, figure drawing, painting, advanced painting, watercolor, acrylics, two-dimensional design, three-dimensional design, art history, and the business of art. She has been an exchange instructor, guest lecturer, juror, and art consultant both nationally and internationally. After 35 years of teaching, she retired and is now painting and drawing on a full time basis, creating art for public places, exhibiting and conducting painting and drawing workshops locally and nationally.
Nancy's paintings and drawings are exhibited in museums and galleries throughout the United States and Canada, as well as in private and permanent collections, including:
City of Melbourne (mosaic monument at the Eau Gallie Pier)
Eau Gallie Art District's Outdoor Museum Program (mural on the MelD Studio Architecture Building at 1542 Guava Ave.)
Orlando City Hall
Marriott HOST International (Orlando International Airport)
Arrowmont School of Arts and Crafts (Gatlinburg, TN)
Orlando Utilities
Price Waterhouse, Dupont Center (Orlando)
DuPont Center (Orlando)
Southeast Bank (Miami)
Administrative Arts (Orlando)
Maitland Art Center
Vero Beach Museum of Art
Hubbard Construction Co. (Orlando)
The Paint
Like artists prior to the 20th century, I mix dry pigment and burnt plate oil (refined linseed oil) to make my own paint medium. Burnt plate oil, because of its viscosity, requires the paint to be applied in thin glazed layers of color that works well with my oil painting medium. Thus, my love for drawing merges with my fascination with color allowing me to model form with tonal values, glaze with color, and push and pull design elements to create unique compositional relationships. These images show the process I go through to create my oil paint. When thoroughly mixed, I place between a fold of wax paper, put in a lidded container, and then store in the freezer until ready to paint.