FLWAA: March 2 – April 5, 2021
OMAM Pop-Up Window Exhibit @ 9 W Granada Blvd
Florida Women's Arts Association
The mission of FLWAA is to bring recognition to the achievements of Florida women artists by exhibition and supporting art by women and by education the public about their accomplishments. Learn more about this group at flwaa.com.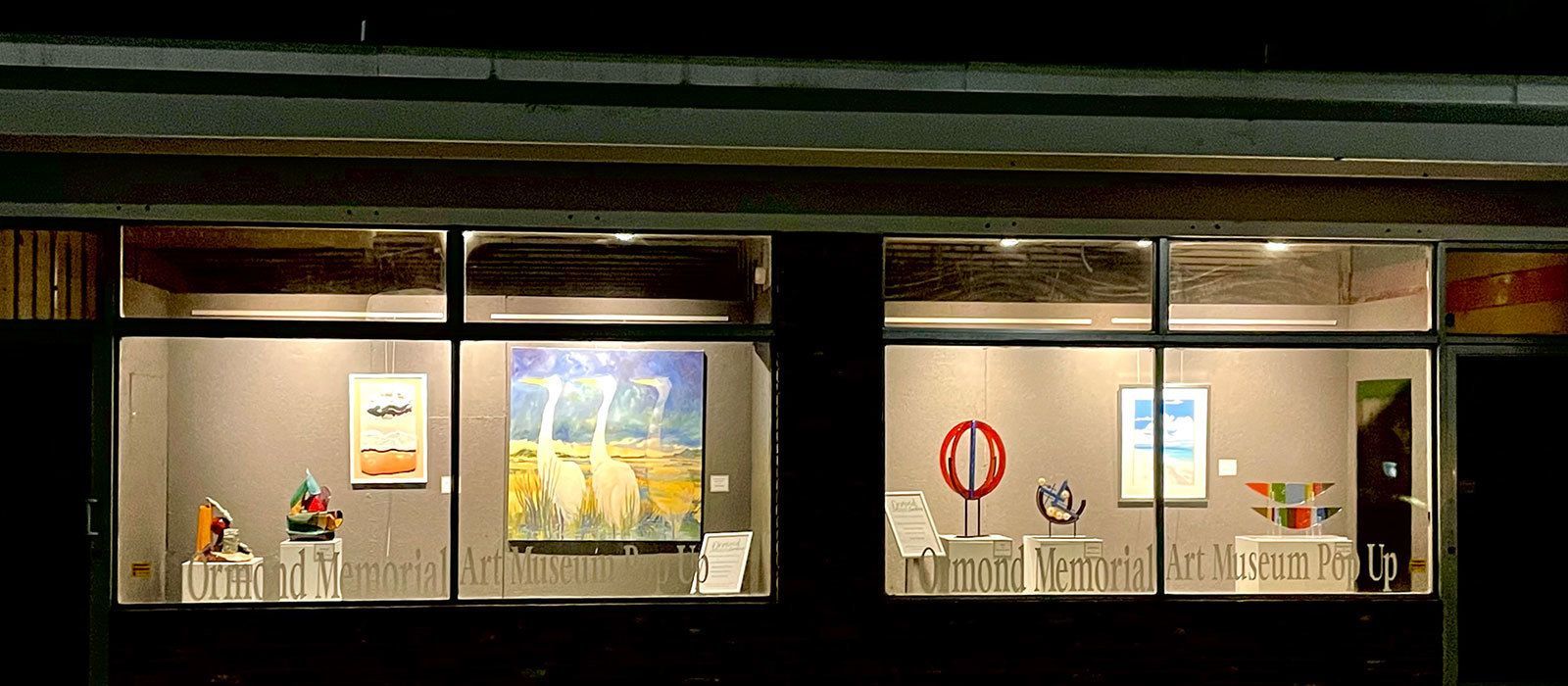 Lillian (LC) Tobey
ARTIST STATEMENT: "Capturing the light is everything." As a glass artist I take delight in the way glass changes with light and creates a dance all of its own. My pieces are colorful to design a sense of joy that resonates with the eye of the beholder."
ABOUT the ARTIST
A native of Chicago's south side, Lillian (LC) Tobey used art as her escape to happiness. She moved to Ormond Beach in 1994 with a background in business and accounting. She's affiliated with several artist groups in Florida, and has found networking to be a very important tool to grow as an artist. On her Facebook page, she enjoys promoting artists, their work, exhibits, accomplishments and achievements.
"Sharing each other's works is vital to the sustainability of the arts. When we cross-pollinate with artist of all forms of expression it creates a spirit that resonates with all lovers of the arts, for the arts, to grow the arts." — Lillian (LC) Tobey
---
Nancy Newlove McElroy
ARTIST STATEMENT: "Clay offers me the most freedom as it responds to physical pull and push resulting in three-dimensional expressions of my inspiration. Skill on the potter's wheel and hand building techniques develop only by doing and failing. Glaze and clay science are also an integral part of one's success. Fire transforms the ceramic structures to the hardness on unrecyclable stone that become relics to discover in the next era. Realizing this, I inspire to leave only the best visual statement of my voice."
ABOUT the ARTIST
Nancy Newlove McElroy earned her Associates of Arts degree from Green Mountain College and BFA from Alfred University: College of Ceramic Art and Design. She worked in production management at Bennington Potters in Vermont. After moving to the suburbs of NYC, Nancy worked in retail, taught pottery and had a one woman show in the Silo Gallery. As a wife and mother of two, Nancy continued to teach in her community and work on commissions. She sold her pottery in numerous gift shops and galleries throughout New York. Once retired in 2013, the McElroy's moved to Ormond Beach. Nancy is active in Florida Women's Arts Association, The Art League of Daytona Beach and The Beaux Arts of Central Florida. Her structures have earned recognition and several awards.
---
Marianne Verna

ABOUT the ARTIST

Having moved to Ormond Beach in June of 2014, Marianne loves this tranquil ocean setting. She works in oils, acrylics and watercolors depending on her mood. Her repertoire includes painting pet portraits, photo-realistic ocean scenes, and whimsical mermaid creations. She is also a master mask designer and often teaches classes in Mardi Gras mask making. Marianne enjoys working with liquid colors and vibrant hues. Composition and value are her keystones as she works to bring life and excitement to her viewers. With more than forty years of experience in visual arts, she learned her skills working with realist and abstract artists in California and Florida.

"The Lonely Conch"
24X30
acrylic on watercolor paper
framed with glass
$820
---
Trish Vevera
fineartamerica.com/profiles/trish-vevera
ABOUT the ARTIST
Combining her love of outdoor "plein air painting" with the challenge of abstracting the landscape, Trish provides a contemporary rendering of a realistic environment. Her landscape work pushes reality by the use of bold, vibrant color and imaginative design.
"This painting is an environmental statement. Painting outside (plein air), I notice all the flora and fauna and enjoy being in nature. The painting background is painted from views at Bulow Creek State Park along Walter Boardman Lane – the marsh views. Even though Egrets are not endangered, other birds and animals are. If we do not want them to be endangered then we need to take care of their environment. With shrinking wetlands and habitats, less and less space is available for our birds and other animals. The painting represents three egrets. One egret is fine. The second egret has a broken wing, and the 3rd egret is disappearing into the landscape, symbolizing its loss." – Trish Vevera
---