Writing Corner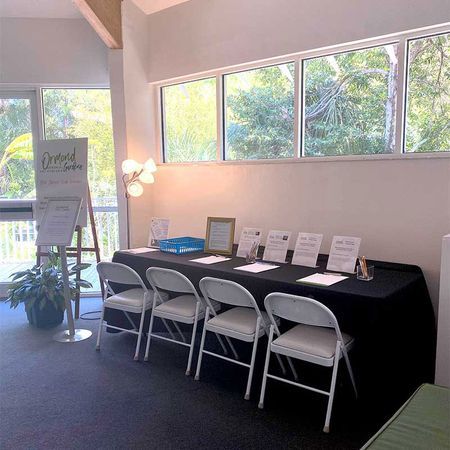 Instructions:
View the "Ignited" exhibit featuring artwork by Julie Comnick and Jie Li.
 
Choose one or several pieces of art that speak to you.
 
Virtually "sit down" at OMAM's Writing Corner to capture your reaction or follow the writing prompts to spark inspiration.
 
Write an original, three-minute poem, prose or spoken word in response to the artwork.
 
Email to Michelle Davidson at mdavidson@ormondartmuseum.org
Writing Prompts
Facilitated by Jacklyn Gion and Stetson University's MFA of the Americas
From Lindsay Hamilton, MFA Alumna: Fire is a sensory and emotional experience. Pick a painting from each artist and place yourself in it. Write about each sense through the lens of your emotion. Do your emotions affect your senses, or the other way around? Take time to explore.
From Jared Smith, MFA Alumna: Write about the human desire for emotional connection to nature in the age of digital alienation. 
From Teresa Carmody, Director of the MFA: Think about the provenance of one of the paintings. Where did the painting originate? How did it travel to this place? What was that journey like? Tell the painting's backstory. 
From Mary Duerksen, MFA Alumna: Place yourself in this scene.  You are seated near a campfire.  As you observe the campfire you notice that the 'logs' of the fire are actually violins being burnt. What are your thoughts? Are you shocked? Curious? Looking at the paintings, write about what you observe in the scene and how you are reacting to the scene.  What does it sound like? What smells do you observe? Touch base with your own feelings. Describe them.
If you were observing a forest fire from the perspective of the paintings, what would you hear?  What sounds would you notice? If you were caught up in listening to the fire as it progresses, what sounds would alarm you, make you flee the scene?  What are your thoughts as you consider the desire to listen to and observe this force of nature and the risk you take of being destroyed by it?